Knowledgebase
[QODBC-Desktop] How to use the QuickBooks Reporting Engine with QODBC
Posted by Juliet (QODBC Support) on 30 March 2010 08:32 AM
Note: VB Demo is deprecated.
Please refer to How to use the QODBC Test Tool for testing
Instructions
This driver is not a Client/Server product; it navigates the QuickBooks qbXML SDK directly. QODBC accepts SQL commands through the ODBC Interface, then converts those calls to qbXML navigational controls within the QuickBooks SDK and returns recordsets that qualify for the query results.
QODBC also supports extracting all the QuickBooks Reports through the ODBC Interface. To know the list of Reports available, uses the command SP_REPORTS.
SP_REPORTS Related
SP_REPORTS
With the release of QODBC v6.00.00.176 and later, you can use the new stored procedure SP_REPORTS to list all the available sp_reports in QuickBooks.

To run the Stored Procedure, click on "Start" and "Programs" and locate QODBC Driver for the QuickBooks program group. Click on the QODBC Test Tool icon to launch the program supplied with QODBC. To establish a connection, select the "QuickBooks Data" DSN from the dropdown list, and Click on "Connect."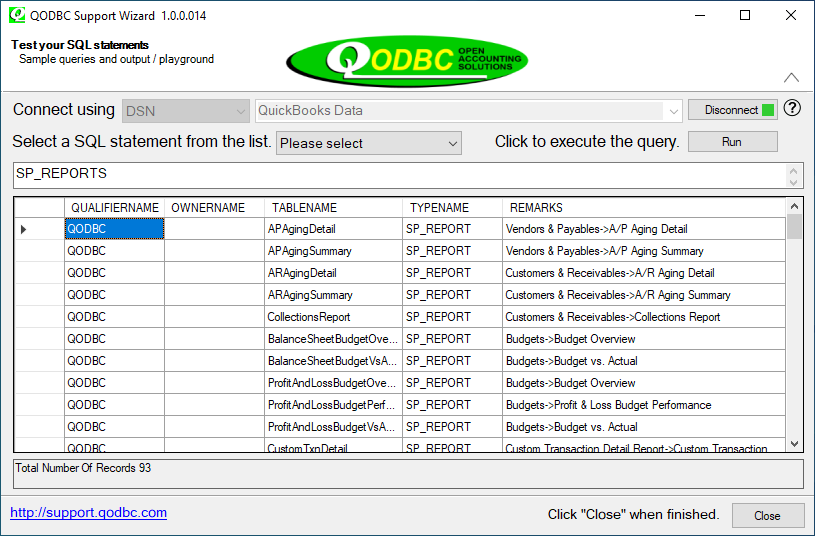 SP_REPORTCOLUMNS
You can also see all the columns available in a given SP_REPORT by using the sp_reportcolumns report name.
SP_PARAMETERS
Use SP_PARAMETERS to list all the parameters available for a given SP_REPORT. The VALUES column lists available values that can be used with the parameter.
SP_REPORTS Used with MS Query
In other applications, you can also run sp_report in MS Excel/MS Access. Refer: How to create sp_reports using Microsoft Excel
Stored Procedure reports (sp_reports) can also be used by Microsoft Excel (or other MS Office products) to bring any number of QuickBooks reports directly into a spreadsheet by using Microsoft Query (shown in this example doing a Balance Sheet Summary report).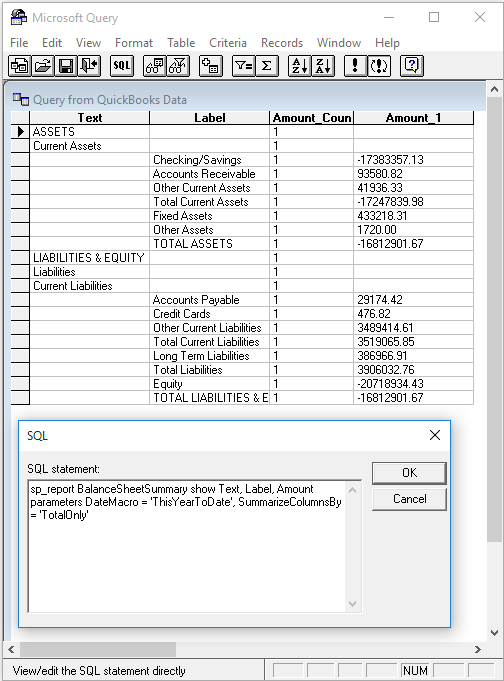 Stored Procedure SQL Scripts
These sample Stored Procedure SQL Scripts can be copied (Ctrl-C) and pasted (Ctrl-V) into VB Demo and queried. With your QuickBooks company file open, click Start and Programs and locate QODBC Driver for the QuickBooks program group. Click on the VB Demo icon to launch the Visual Basic Demo program supplied with QODBC. To establish a connection, from the menu bar, select Connections -> Add a new connection, select the QuickBooks Data DSN, Click OK, and copy (Ctrl-C) and paste (Ctrl-V) into VB Demo any of the following QuickBooks Report SQL Scripts:
sp_report PhysicalInventoryWorksheet show ItemDesc_Title, ItemVendor_Title, QuantityOnHand_Title, None_Title, Text, Blank, ItemDesc, ItemVendor, QuantityOnHand, None
sp_report InventoryValuationSummary show ItemDesc_Title, QuantityOnHand_Title, AverageCost_Title, ValueOnHand_Title, PercentOfTotalValue_Title, UnitPrice_Title, RetailValueOnHand_Title, PercentOfTotalRetail_Title, Text, Blank, ItemDesc, QuantityOnHand, AverageCost, ValueOnHand, PercentOfTotalValue, UnitPrice, RetailValueOnHand, PercentOfTotalRetail parameters DateMacro = 'ThisMonthToDate'
sp_report InventoryStockStatusByVendor show ItemDesc_Title, ReorderPoint_Title, QuantityOnHand_Title, QuantityOnSalesOrder_Title, QuantityAvailable_Title, SuggestedReorder_Title, QuantityOnOrder_Title, EarliestReceiptDate_Title, SalesPerWeek_Title, Text, Blank, ItemDesc, ReorderPoint, QuantityOnHand, QuantityOnSalesOrder, QuantityAvailable, SuggestedReorder, QuantityOnOrder, EarliestReceiptDate, SalesPerWeek parameters DateMacro = 'ThisMonthToDate'
sp_report InventoryStockStatusByItem show ItemDesc_Title, ItemVendor_Title, ReorderPoint_Title, QuantityOnHand_Title, QuantityOnSalesOrder_Title, QuantityAvailable_Title, SuggestedReorder_Title, QuantityOnOrder_Title, EarliestReceiptDate_Title, SalesPerWeek_Title, Text, Blank, ItemDesc, ItemVendor, ReorderPoint, QuantityOnHand, QuantityOnSalesOrder, QuantityAvailable, SuggestedReorder, QuantityOnOrder, EarliestReceiptDate, SalesPerWeek parameters DateMacro = 'ThisMonthToDate'
sp_report APAgingDetail show TxnType_Title, Date_Title, RefNumber_Title, Name_Title, DueDate_Title, Aging_Title, OpenBalance_Title, Text, Blank, TxnType, Date, RefNumber, Name, DueDate, Aging, OpenBalance parameters DateMacro = 'Today', AgingAsOf = 'Today'
sp_report ARAgingDetail show TxnType_Title, Date_Title, RefNumber_Title, PONumber_Title, Name_Title, Terms_Title, DueDate_Title, Aging_Title, OpenBalance_Title, Text, Blank, TxnType, Date, RefNumber, PONumber, Name, Terms, DueDate, Aging, OpenBalance parameters DateMacro = 'Today', AgingAsOf = 'Today'
sp_report VendorBalanceDetail show TxnType_Title, Date_Title, RefNumber_Title, Account_Title, Amount_Title, RunningBalance_Title, Text, Blank, TxnType, Date, RefNumber, Account, Amount, RunningBalance parameters DateMacro = 'All'
sp_report UnbilledCostsByJob show TxnType_Title, Date_Title, SourceName_Title, Memo_Title, Account_Title, BillingStatus_Title, Amount_Title, Text, Blank, TxnType, Date, SourceName, Memo, Account, BillingStatus, Amount parameters DateMacro = 'All'
sp_report SalesByRepDetail show TxnType_Title, Date_Title, RefNumber_Title, Memo_Title, Name_Title, Item_Title, Quantity_Title, UnitPrice_Title, Amount_Title, RunningBalance_Title, Text, Blank, TxnType, Date, RefNumber, Memo, Name, Item, Quantity, UnitPrice, Amount, RunningBalance parameters DateMacro = 'ThisMonthToDate'
sp_report SalesByCustomerDetail show TxnType_Title, Date_Title, RefNumber_Title, Memo_Title, Name_Title, Item_Title, Quantity_Title, UnitPrice_Title, Amount_Title, RunningBalance_Title, Text, Blank, TxnType, Date, RefNumber, Memo, Name, Item, Quantity, UnitPrice, Amount, RunningBalance parameters DateMacro = 'ThisMonthToDate'
sp_report PendingSales show TxnType_Title, Date_Title, RefNumber_Title, Name_Title, Memo_Title, Account_Title, Amount_Title, Text, Blank, TxnType, Date, RefNumber, Name, Memo, Account, Amount parameters DateMacro = 'ThisMonthToDate', SummarizeRowsBy = 'TotalOnly'
sp_report CustomerBalanceDetail show TxnType_Title, Date_Title, RefNumber_Title, Account_Title, Amount_Title, RunningBalance_Title, Text, Blank, TxnType, Date, RefNumber, Account, Amount, RunningBalance parameters DateMacro = 'All'
sp_report UnpaidBillsDetail show TxnType_Title, Date_Title, RefNumber_Title, DueDate_Title, Aging_Title, OpenBalance_Title, Text, Blank, TxnType, Date, RefNumber, DueDate, Aging, OpenBalance parameters DateMacro = 'Today'
sp_report OpenInvoices show TxnType_Title, Date_Title, RefNumber_Title, PONumber_Title, Terms_Title, DueDate_Title, Aging_Title, OpenBalance_Title, Text, Blank, TxnType, Date, RefNumber, PONumber, Terms, DueDate, Aging, OpenBalance parameters DateMacro = 'Today'
sp_report CollectionsReport show TxnType_Title, Date_Title, RefNumber_Title, PONumber_Title, Terms_Title, DueDate_Title, Aging_Title, OpenBalance_Title, Text, Blank, TxnType, Date, RefNumber, PONumber, Terms, DueDate, Aging, OpenBalance parameters DateMacro = 'Today', AgingAsOf = 'Today'
sp_report SalesByItemDetail show TxnType_Title, Date_Title, RefNumber_Title, Memo_Title, Name_Title, Quantity_Title, UnitPrice_Title, Amount_Title, RunningBalance_Title, Text, Blank, TxnType, Date, RefNumber, Memo, Name, Quantity, UnitPrice, Amount, RunningBalance parameters DateMacro = 'ThisMonthToDate'
sp_report IncomeTaxDetail show TxnType_Title, Date_Title, RefNumber_Title, Name_Title, Memo_Title, Account_Title, Debit_Title, Credit_Title, Text, Blank, TxnType, Date, RefNumber, Name, Memo, Account, Debit, Credit parameters DateMacro = 'LastYear'
sp_report IncomeByCustomerDetail show TxnType_Title, Date_Title, RefNumber_Title, Memo_Title, Account_Title, ClearedStatus_Title, SplitAccount_Title, Amount_Title, RunningBalance_Title, Text, Blank, TxnType, Date, RefNumber, Memo, Account, ClearedStatus, SplitAccount, Amount, RunningBalance parameters DateMacro = 'ThisYearToDate'
sp_report EstimatesByJob show TxnType_Title, Date_Title, RefNumber_Title, Memo_Title, EstimateActive_Title, Amount_Title, Text, Blank, TxnType, Date, RefNumber, Memo, EstimateActive, Amount parameters DateMacro = 'All'
sp_report ExpenseByVendorDetail show TxnType_Title, Date_Title, RefNumber_Title, Memo_Title, Account_Title, ClearedStatus_Title, SplitAccount_Title, Amount_Title, RunningBalance_Title, Text, Blank, TxnType, Date, RefNumber, Memo, Account, ClearedStatus, SplitAccount, Amount, RunningBalance parameters DateMacro = 'ThisYearToDate'
sp_report EmployeeStateTaxesDetail show SourceName_Title, Date_Title, PayrollItem_Title, IncomeSubjectToTax_Title, WageBase_Title, Amount_Title, Text as "Employee Name", SourceName, Date, PayrollItem, IncomeSubjectToTax, WageBase, Amount parameters DateMacro = 'last quarter, IncludeAccounts = 'InUse'
sp_report PayrollItemDetail show RefNumber_Title, Date_Title, SourceName_Title, PayrollItem_Title, TxnType_Title, WageBase_Title, Amount_Title, Text, Blank, TxnType, Date, RefNumber, SourceName, PayrollItem, WageBase, Amount parameters DateMacro = 'ThisQuarter', IncludeAccounts = 'InUse'
sp_report PayrollTransactionsByPayee show Date_Title, Name_Title, RefNumber_Title, TxnType_Title, Memo_Title, Account_Title, Amount_Title, Text, TxnType, Date, RefNumber, Name, Memo, Account, Amount parameters DateMacro = 'ThisQuarter', IncludeAccounts = 'InUse', ReportDetailLevelFilter = 'SummaryOnly'
sp_report TimeByJobDetail show Date_Title, Name_Title, BillingStatus_Title, Duration_Title, Text, Blank, Date, Name, BillingStatus, Duration parameters DateMacro = 'ThisMonthToDate'
sp_report ARAgingSummary show Current_Title, Amount_Title, Text, Label, Current, Amount parameters DateMacro = 'Today', AgingAsOf = 'Today'
sp_report IncomeTaxSummary show Amount_Title, Label, Amount parameters DateMacro = 'LastYear'
sp_report JobProfitabilitySummary show AmountActualCost_Title, AmountActualRevenue_Title, AmountDifferenceActual_Title, Text, Label, AmountActualCost, AmountActualRevenue, AmountDifferenceActual parameters DateMacro = 'All', SummarizeColumnsBy = 'TotalOnly'
sp_report ItemProfitability show AmountActualCost_Title, AmountActualRevenue_Title, AmountDifferenceActual_Title, Text, Label, AmountActualCost, AmountActualRevenue, AmountDifferenceActual parameters DateMacro = 'All', SummarizeColumnsBy = 'TotalOnly'
sp_report JobProfitabilityDetail show AmountActualCost_Title, AmountActualRevenue_Title, AmountDifferenceActual_Title, Text, Label, AmountActualCost, AmountActualRevenue, AmountDifferenceActual parameters DateMacro = 'All', EntityFilterFullNameWithChildren = 'Abercrombie, Kristy', SummarizeColumnsBy = 'TotalOnly'
sp_report TrialBalance show Debit_Title, Credit_Title, Label, Debit, Credit parameters DateMacro = 'LastMonth', ReportBasis = 'Cash' (or 'Accrual')
sp_report SalesTaxLiability show TotalSales_Title, NonTaxableSales_Title, TaxableSales_Title, TaxRate_Title, TaxCollected_Title, SalesTaxPayable_Title, Text, Label, TotalSales, NonTaxableSales, TaxableSales, TaxRate, TaxCollected, SalesTaxPayable parameters DateMacro = 'LastMonth'
sp_report CustomerBalanceSummary show Amount_Title, Text, Label, Amount parameters DateMacro = 'ThisMonthToDate', SummarizeColumnsBy = 'TotalOnly'
sp_report CustomSummary show Amount_Title, Text, Label, Amount parameters DateMacro = 'ThisMonthToDate', SummarizeRowsBy = 'IncomeStatement', SummarizeColumnsBy = 'TotalOnly', Calendar = 'FiscalYear', ReturnRows = 'ActiveOnly', ReturnColumns = 'ActiveOnly'
sp_report SalesTaxRevenueSummary show AmountPreviousPeriod_Title, AmountPreviousYear_Title, Amount_Title Text, Label, AmountPreviousPeriod, AmountPreviousYear, Amount parameters DateMacro = 'LastMonth', SummarizeColumnsBy = 'SalesTaxCode'
sp_report SalesTaxRevenueSummary show Amount_Title, Text, Label, Amount parameters DateMacro = 'LastMonth', SummarizeColumnsBy = 'SalesTaxCode'
sp_report SalesByCustomerSummary show Amount_Title, Text, Label, Amount parameters DateMacro = 'ThisMonthToDate', SummarizeColumnsBy = 'TotalOnly'
sp_report IncomeByCustomerSummary show Amount_Title, Text, Label, Amount parameters DateMacro = 'ThisYearToDate', SummarizeColumnsBy = 'TotalOnly'
sp_report SalesByItemSummary show Quantity_Title, Amount_Title, Percent_Title, AveragePrice_Title, Text, Label, Quantity, Amount, Percent, AveragePrice parameters DateMacro = 'ThisMonthToDate', SummarizeColumnsBy = 'TotalOnly'
sp_report SalesByItemSummary show Quantity_Title, Amount_Title, Percent_Title, AveragePrice_Title, AmountCOGS_Title, AmountAvgCOGS_Title, AmountGrossMargin_Title, PercentGrossMargin_Title, Text, Label, Quantity, Amount, Percent, AveragePrice, AmountCOGS, AmountAvgCOGS, AmountCOGS, AmountGrossMargin, PercentGrossMargin parameters DateMacro = 'ThisMonthToDate', SummarizeColumnsBy = 'TotalOnly'
sp_report ProfitAndLossBudgetVsActual show Amount_Title, Budget_Title, Difference_Title, Percent_Title, Text, Label, Amount, Budget, Difference, Percent parameters FiscalYear = 2021, BudgetCriterion = 'Accounts', SummarizeBudgetColumnsBy = 'Date', SummarizeBudgetRowsBy = 'Account'
sp_report JobEstimatesVsActualsSummary show AmountEstCost_Title, AmountActualCost_Title, AmountDifferenceCost_Title, AmountEstRevenue_Title, AmountActualRevenue_Title, AmountDifferenceRevenue_Title, Text, Label, AmountEstCost, AmountActualCost, AmountDifferenceCost, AmountEstRevenue, AmountActualRevenue, AmountDifferenceRevenue parameters DateMacro = 'All', SummarizeColumnsBy = 'TotalOnly'
sp_report JobEstimatesVsActualsDetail show AmountEstCost_Title, AmountActualCost_Title, AmountDifferenceCost_Title, AmountEstRevenue_Title, AmountActualRevenue_Title, AmountDifferenceRevenue_Title, Text, Label, AmountEstCost, AmountActualCost, AmountDifferenceCost, AmountEstRevenue, AmountActualRevenue, AmountDifferenceRevenue parameters DateMacro = 'All', EntityFilterFullNameWithChildren = 'Cook, Brian', SummarizeColumnsBy = 'TotalOnly'
sp_report ItemEstimatesVsActuals show AmountEstCost_Title, AmountActualCost_Title, AmountDifferenceCost_Title, AmountEstRevenue_Title, AmountActualRevenue_Title, AmountDifferenceRevenue_Title, Text, Label, AmountEstCost, AmountActualCost, AmountDifferenceCost, AmountEstRevenue, AmountActualRevenue, AmountDifferenceRevenue parameters DateMacro = 'All', SummarizeColumnsBy = 'TotalOnly'
sp_report BalanceSheetSummary show Amount_Title, Text, Label, Amount parameters DateMacro = 'ThisYearToDate', SummarizeColumnsBy = 'TotalOnly'
sp_report ProfitAndLossStandard show Amount_Title, Text, Label, Amount parameters DateMacro = 'ThisMonthToDate', SummarizeColumnsBy = 'TotalOnly'
sp_report ProfitAndLossByJob show Amount_Title, Text, Label, Amount parameters DateMacro = 'ThisYearToDate', SummarizeColumnsBy = 'Customer'
sp_report ProfitAndLossByClass show Amount_Title, Text, Label, Amount parameters DateMacro = 'ThisYearToDate', SummarizeColumnsBy = 'Class'
sp_report TimeByName show Duration_Title, Text, Label, Duration parameters DateMacro = 'ThisYearToDate', SummarizeColumnsBy = 'TotalOnly'
sp_report TimeByJobSummary show Duration_Title, Text, Label, Duration parameters DateMacro = 'ThisYearToDate', SummarizeColumnsBy = 'TotalOnly'
sp_report TimeByItem show Duration_Title, Text, Label, Duration parameters DateMacro = 'ThisYearToDate', SummarizeColumnsBy = 'TotalOnly'
sp_report PayrollSummary show AmountHours_Title, AmountRate_Title, Amount_Title, Label, AmountHours, AmountRate, Amount parameters DateMacro = 'ThisQuarterToDate'
sp_report TxnDetailByAccount show TxnType_Title, Date_Title, RefNumber_Title, Name_Title, Memo_Title, ClearedStatus_Title, SplitAccount_Title, Debit_Title, Credit_Title, RunningBalance_Title, Text, Blank, TxnType, Date, RefNumber, Name, Memo, ClearedStatus, SplitAccount, Debit, Credit, RunningBalance parameters DateMacro = 'ThisMonthToDate'
sp_report ProfitAndLossDetail show TxnType_Title, Date_Title, RefNumber_Title, Name_Title, Memo_Title, ClearedStatus_Title, SplitAccount_Title, Debit_Title, Credit_Title, RunningBalance_Title, Text, Blank, TxnType, Date, RefNumber, Name, Memo, ClearedStatus, SplitAccount, Debit, Credit, RunningBalance parameters DateMacro = 'ThisYearToDate'
sp_report PurchaseByVendorDetail show TxnType_Title, Date_Title, RefNumber_Title, Memo_Title, Name_Title, Item_Title, Quantity_Title, UnitPrice_Title, Amount_Title, RunningBalance_Title, Text, Blank, TxnType, Date, RefNumber, Memo, Name, Item, Quantity, UnitPrice, Amount, RunningBalance parameters DateMacro = 'ThisMonthToDate'
sp_report PurchaseByItemDetail show TxnType_Title, Date_Title, RefNumber_Title, Memo_Title, SourceName_Title, Quantity_Title, UnitPrice_Title, Amount_Title, RunningBalance_Title, Text, Blank, TxnType, Date, RefNumber, Memo, SourceName, Quantity, UnitPrice, Amount, RunningBalance parameters DateMacro = 'ThisMonthToDate'
sp_report TxnListByDate show TxnType_Title, Date_Title, RefNumber_Title, Name_Title, Memo_Title, Account_Title, ClearedStatus_Title, SplitAccount_Title, Debit_Title, Credit_Title, Text, TxnType, Date, RefNumber, Name, Memo, Account, ClearedStatus, SplitAccount, Debit, Credit parameters DateMacro = 'ThisMonthToDate'
sp_report AuditTrail show TxnNumber_Title, TxnType_Title, ModifiedTime_Title, LastModifiedBy_Title, Date_Title, Name_Title, Memo_Title, Account_Title, SplitAccount_Title, Debit_Title, Credit_Title, Text, TxnNumber, TxnType, ModifiedTime, LastModifiedBy, Date, Name, Memo, Account, SplitAccount, Debit, Credit parameters DateMacro = 'Today'
sp_report CheckDetail show TxnType_Title, RefNumber_Title, Date_Title, Name_Title, Item_Title, Account_Title, PaidAmount_Title, OriginalAmount_Title, TxnType, RefNumber, Date, Name, Item, Account, PaidAmount, OriginalAmount parameters DateMacro = 'ThisMonthToDate' [Note: (where ClearedStatus = 0) for uncleared Cheques ]
sp_report Detail1099 show TxnType_Title, Date_Title, RefNumber_Title, Memo_Title, Account_Title, ClearedStatus_Title, SplitAccount_Title, OriginalAmount_Title, PaidAmount_Title, RunningBalance_Title, Text, Blank, TxnType, Date, RefNumber, Memo, Account, ClearedStatus, SplitAccount, OriginalAmount, PaidAmount, RunningBalance parameters DateMacro = 'LastYear'
sp_report DepositDetail show TxnType_Title, RefNumber_Title, Date_Title, Name_Title, Account_Title, Amount_Title, TxnType, RefNumber, Date, Name, Account, Amount parameters DateMacro = 'ThisMonthToDate'
sp_report InventoryValuationDetail show TxnType_Title, Date_Title, Name_Title, RefNumber_Title, Quantity_Title, CostPrice_Title, QuantityOnHand_Title, AverageCost_Title, ValueOnHand_Title, Text, Blank, TxnType, Date, Name, RefNumber, Quantity, CostPrice, QuantityOnHand, AverageCost, ValueOnHand parameters DateMacro = 'ThisMonthToDate'
sp_report JobProgressInvoicesVsEstimates show TxnType_Title, Date_Title, RefNumber_Title, EstimateActive_Title, Amount_Title, ProgressAmount_Title, ProgressPercent_Title, Text, TxnType, Date, RefNumber, EstimateActive, Amount, ProgressAmount, ProgressPercent parameters DateMacro = 'ThisYearToDate'
sp_report OpenPOs show TxnType_Title, Date_Title, Name_Title, RefNumber_Title, DeliveryDate_Title, Amount_Title, Blank, TxnType, Date, Name, RefNumber, DeliveryDate, Amount parameters DateMacro = 'All'
sp_report OpenPOsByJob show TxnType_Title, Date_Title, DeliveryDate_Title, RefNumber_Title, SourceName_Title, Item_Title, Quantity_Title, ReceivedQuantity_Title, UnitPrice_Title, Amount_Title, Text, Blank, TxnType, Date, DeliveryDate, RefNumber, SourceName, Item, Quantity, ReceivedQuantity, UnitPrice, Amount parameters DateMacro = 'All'
sp_report PayrollReviewDetail show Date_Title, ModifiedTime_Title, TaxTableVersion_Title, IncomeSubjectToTax_Title, WageBase_Title, PayrollItem_Title, UserEdit_Title, Amount_Title, CalculatedAmount_Title, AmountDifference_Title, Text, Date, ModifiedTime, TaxTableVersion, IncomeSubjectToTax, WageBase, PayrollItem, UserEdit, Amount, CalculatedAmount, AmountDifference parameters DateMacro = 'ThisYearToDate', IncludeAccounts = 'All'
sp_report TxnListByVendor show TxnType_Title, Date_Title, RefNumber_Title, Memo_Title, Account_Title, ClearedStatus_Title, SplitAccount_Title, Amount_Title, Text, TxnType, Date, RefNumber, Memo, Account, ClearedStatus, SplitAccount, Amount parameters DateMacro = 'ThisMonthToDate'
sp_report PurchaseByItemSummary show Quantity_Title, Amount_Title, Text, Label, Quantity, Amount parameters DateMacro = 'ThisMonthToDate', SummarizeColumnsBy = 'TotalOnly'
sp_report PayrollLiabilityBalances show Amount_Title, Text, Label, Amount parameter DateMacro = 'ThisYear'
sp_report ProfitAndLossBudgetOverview show Amount_Title, Text, Label, Amount parameters FiscalYear = 2021, BudgetCriterion = 'Accounts', SummarizeBudgetColumnsBy = 'Date', SummarizeBudgetRowsBy = 'Account'
sp_report ProfitAndLossBudgetPerformance show Amount_Title, Text, Label, Amount parameters FiscalYear = 2021, BudgetCriterion = 'Accounts', SummarizeBudgetColumnsBy = 'Date', SummarizeBudgetRowsBy = 'Account'
sp_report ProfitAndLossYTDComp show Amount_Title, AmountYTD_Title, Text, Label, Amount, AmountYTD parameters DateMacro = 'ThisMonthToDate', SummarizeColumnsBy = 'TotalOnly'
sp_report BalanceSheetPrevYearComp show Amount_Title, AmountPreviousYear_Title, AmountPreviousYearChange_Title, PercentChangePreviousYear_Title, Text, Label, Amount, AmountPreviousYear, AmountPreviousYearChange, PercentChangePreviousYear parameters DateMacro = 'ThisYearToDate', SummarizeColumnsBy = 'TotalOnly'
sp_report ProfitAndLossPrevYearComp show Amount_Title, AmountPreviousYear_Title, AmountPreviousYearChange_Title, PercentChangePreviousYear_Title, Text, Label, Amount, AmountPreviousYear, AmountPreviousYearChange, PercentChangePreviousYear parameters DateMacro = 'ThisYearToDate', SummarizeColumnsBy = 'TotalOnly'
sp_report CustomTxnDetail show TxnType_Title, Date_Title, RefNumber_Title, Name_Title, Memo_Title, Account_Title, ClearedStatus_Title, SplitAccount_Title, Debit_Title, Credit_Title, RunningBalance_Title, Text, Blank, TxnType, Date, RefNumber, Name, Memo, Account, ClearedStatus, SplitAccount, Debit, Credit, RunningBalance parameters DateMacro = 'ThisMonthToDate', SummarizeRowsBy = 'TotalOnly', OpenBalanceAsOf = 'Today'
sp_report PayrollTransactionDetail show Date_Title, RefNumber_Title, TxnType_Title, SourceName_Title, PayrollItem_Title, WageBase_Title, Amount_Title, Text, Date, RefNumber, TxnType, SourceName, PayrollItem, WageBase, Amount parameters DateMacro = 'ThisMonth', IncludeAccounts = 'All', ReportDetailLevelFilter = 'AllExceptSummary'
sp_report MissingChecks show TxnType_Title, Date_Title, RefNumber_Title, Name_Title, Memo_Title, Account_Title, SplitAccount_Title, Amount_Title, Text, TxnType, Date, RefNumber, Name, Memo, Account, SplitAccount, Amount parameters DateMacro = 'All', AccountFilterFullNames = 'Checking'
sp_report APAgingSummary show Current_Title, Amount_Title, Label, Current, Amount parameters DateMacro = 'Today', AgingAsOf = 'Today'
sp_report VendorBalanceSummary show Amount_Title, Label, Amount parameters DateMacro = 'All', SummarizeColumnsBy = 'TotalOnly'
sp_report SalesByRepSummary show Amount_Title, Label, Amount parameters DateMacro = 'ThisMonthToDate', SummarizeColumnsBy = 'TotalOnly'
sp_report PurchaseByVendorSummary show Amount_Title, Label, Amount parameters DateMacro = 'ThisMonthToDate', SummarizeColumnsBy = 'TotalOnly'
sp_report ExpenseByVendorSummary show Amount_Title, Label, Amount parameters DateMacro = 'ThisYearToDate', SummarizeColumnsBy = 'TotalOnly'
sp_report EmployeeEarningsSummary show Amount_Title, Label, Amount parameters DateMacro = 'ThisQuarter'
sp_report Journal show TxnNumber_Title, TxnType_Title, Date_Title, RefNumber_Title, Name_Title, Memo_Title, Account_Title, Debit_Title, Credit_Title, TxnNumber, TxnType, Date, RefNumber, Name, Memo, Account, Debit, Credit parameters DateMacro = 'ThisMonthToDate'
sp_report GeneralLedger show TxnType_Title, Date_Title, RefNumber_Title, Name_Title, Memo_Title, SplitAccount_Title, Debit_Title, Credit_Title, RunningBalance_Title, Blank, TxnType, Date, RefNumber, Name, Memo, SplitAccount, Debit, Credit, RunningBalance parameters DateMacro = 'ThisMonthToDate'
sp_report BalanceSheetDetail show TxnType_Title, Date_Title, RefNumber_Title, Name_Title, Memo_Title, ClearedStatus_Title, SplitAccount_Title, Debit_Title, Credit_Title, RunningBalance_Title, Blank, TxnType, Date, RefNumber, Name, Memo, ClearedStatus, SplitAccount, Debit, Credit, RunningBalance parameters DateMacro = 'ThisMonthToDate'
sp_report TxnListByCustomer show TxnType_Title, Date_Title, RefNumber_Title, Memo_Title, Account_Title, ClearedStatus_Title, SplitAccount_Title, Amount_Title, Text, TxnType, Date, RefNumber, Memo, Account, ClearedStatus, SplitAccount, Amount parameters DateMacro = 'ThisMonthToDate'
sp_report BalanceSheetBudgetOverview show Amount_Title, Label, Amount parameters FiscalYear = 2021, BudgetCriterion = 'Accounts', SummarizeBudgetColumnsBy = 'Date', SummarizeBudgetRowsBy = 'Account'
sp_report BalanceSheetBudgetOverview show Amount_Title, Label, Amount parameters FiscalYear = 2021, BudgetCriterion = 'Accounts', SummarizeBudgetColumnsBy = 'Date', SummarizeBudgetRowsBy = 'Account'
sp_report BalanceSheetBudgetVsActual show Amount_Title, Budget_Title, Difference_Title, Percent_Title, Text, Label, Amount, Budget, Difference, Percent parameters FiscalYear = 2021, BudgetCriterion = 'Accounts', SummarizeBudgetColumnsBy = 'Date', SummarizeBudgetRowsBy = 'Account'
sp_report LotNumberInStockBySite show Blank, Text, ItemDesc, SerialOrLotNumber parameters DateMacro = 'ThisMonthToDate'
Also, Refer
How to use QODBC Support Wizard
How to get information on Tables and Columns
QODBC Stored Procedures Command List
How to use the VB Demo for testing
Keywords: Report Engine
---