Knowledgebase
[QODBC-ALL] How to use QODBC Support Wizard - Remote Connectivity
Posted by Rajendra Dewani (QODBC Support) on 10 March 2021 01:49 PM
How to use QODBC Support Wizard - Remote Connectivity
Problem Description:
How to use QODBC Support Wizard - Remote Connectivity?
Solution:
Please follow the below-listed steps for using QODBC Support Wizard.
The "QODBC Support Wizard" application is included with QODBC v18.0.0.325 and above. If you are using an older version of QODBC, please upgrade your QODBC to the latest version. Click here to download the newest version of QODBC.
The "Remote Connectivity" option is added in QODBC v21.0.0.341
Click on the "QODBC Support Wizard" icon from the Windows start menu.
Follow the instruction on the wizard- Please refer to http://qodbc.com/links/2981
Optional Configurations and Tests:
Perform remote connectivity test using QRemote
This is an optional step.
This will help you check remote connectivity.
"Machine A" - QuickBooks Application and QODBC Driver are installed. QuickBooks company files can be on the same machine, shared drive, or another machine. In this example, the IP Address of Machine A is 192.168.137.1
"Machine B" - QODBC Driver is installed. On Machine B, the QuickBooks application is not installed.
On "Machine A"
Start QODBC Support Wizard on "Machine A" and make sure all the checks are passed.
Start QRemote Server on "Machine A" (if to already running)
Start QuickBooks and log in to your QuickBooks company file as QuickBooks user "Admin."
On "Machine B"
Input the IP Address of "Machine A."
Click the "Test Remote Connection" button.
This will perform a test connection from "Machine B" to "Machine A."
If the connection fails, please check if port 4500 is opened on the Windows firewall, physical firewall, and Router.
If you are behind NAT, you may have to configure Port Forwarding.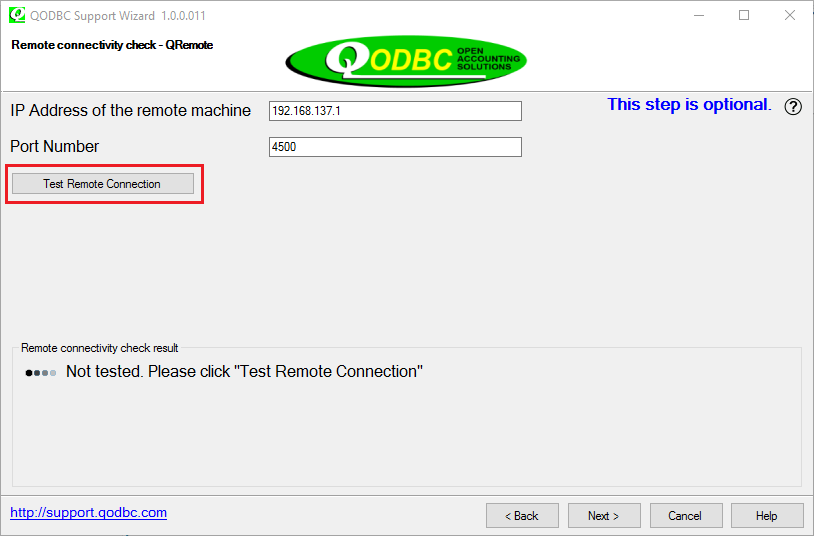 Wait for the result. Please switch back to "Machine A" to check if there is any popup on QuickBooks Application.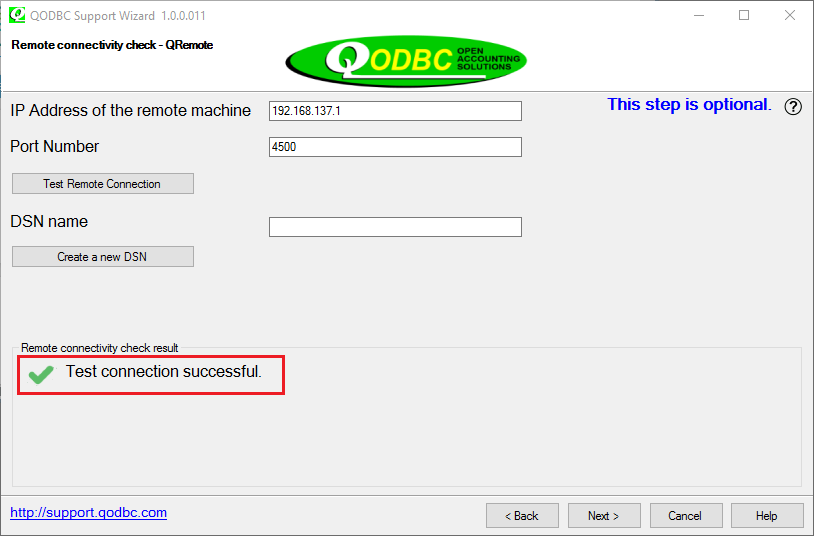 Once the test connection is successful, you may create a DSN.
Input the "DSN Name"
Example "CompanyARemotely"
Click the "Create a new DSN" button to create a QRemote DSN on "Machine B."
You may check the DSN created via QODBC Support Wizard using "Configure QODBC Data Source."
---