[QODBC-POS] Sample C#.NET Code for Creating SalesReceipt
Posted by Jack - QODBC Support on 29 August 2017 07:37 AM
Sample C#.NET Code for Creating SalesReceipt
Sample Application:
Please click here for downloading Sample Code.
Please refer below steps for using application for Creating to SalesReceipt using C#.NET.
Run application select the DSN & click on "Connect" button. In this example, I am connecting to default DSN QuickBooks POS Data. You can change DSN as per your configuration.
Application connected with QuickBooks POS.
You need to insert CustomerListId, Comments, Cashier, SalesReceiptType, Item ListID, Quantity, Rate & Amount which you want to enter and click on "Insert New SalesReceiptItem" button.
New SalesReceipt created.
Result in QuickBooks POS.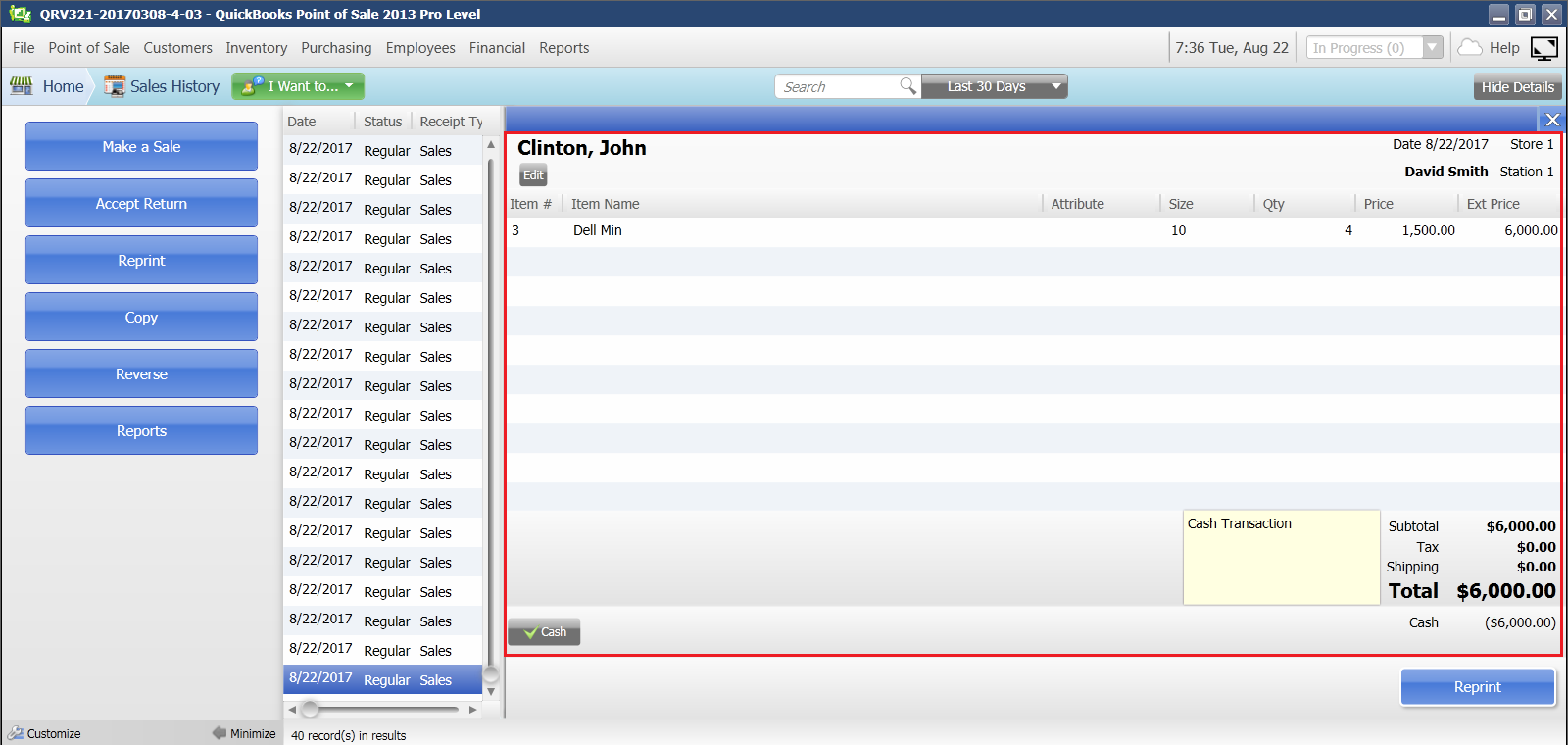 Note: Modify/Append existing SalesReceipt feature is not supported by QuickBooks SDK, so it is not available through QODBC POS.
Application Source Code:
using

 

System

;


using

 

System.Collections.Generic

;


using

 

System.ComponentModel

;


using

 

System.Data

;


using

 

System.Data.Odbc

;


using

 

System.Drawing

;


using

 

System.Linq

;


using

 

System.Text

;


using

 

System.Threading.Tasks

;


using

 

System.Windows.Forms

;



namespace

 

QODBC_SalesReceipt_Insert_Sample


{
    

public

 

partial

 

class

 

Form1

 : Form
    {
        

private

 OdbcConnection _cn;
        

public

 

Form1

()
        {
            InitializeComponent();
        }

        

private

 

void

 

Form1_Load

(

object

 sender, EventArgs e)
        {
            

try


            {
                ListOutDSN();
                Application.DoEvents();
            }
            

catch

 (Exception ex)
            {
                MessageBox.Show(

string

.Format(

"Error - {0}, Stack Trace {1}"

, ex.Message, ex.StackTrace));
            }
            
        }

        

private

 

void

 

ListOutDSN

()
        {
            cboListOfDSN.Items.Clear();

            

var

 myODBCKeys = Microsoft.Win32.Registry.LocalMachine.OpenSubKey(

"SOFTWARE\\ODBC\\ODBC.INI\\ODBC Data Sources"

, 

false

).GetValueNames();

            

foreach

 (

var

 item 

in

 myODBCKeys)
            {
                cboListOfDSN.Items.Add(item);
            }
            myODBCKeys = Microsoft.Win32.Registry.CurrentUser.OpenSubKey(

"SOFTWARE\\ODBC\\ODBC.INI\\ODBC Data Sources"

, 

false

).GetValueNames();
            

foreach

 (

var

 item 

in

 myODBCKeys)
            {
                cboListOfDSN.Items.Add(item);
            }
            

//end of adding DSN to list



            

if

 (cboListOfDSN.Items.Count > 

0

)
            {
                

foreach

 (

string

 item 

in

 cboListOfDSN.Items)
                {
                    

if

 (item == 

"QuickBooks Data"

)
                    {
                        cboListOfDSN.Text = item;
                        

return

;
                    }
                    

if

 (item == 

"QuickBooks Data POS"

)
                    {
                        cboListOfDSN.Text = item;
                        

return

;
                    }
                    

if

 (item == 

"QuickBooks Data Online"

)
                    {
                        cboListOfDSN.Text = item;
                        

return

;
                    }
                }
                cboListOfDSN.SelectedIndex = 

0

;
            }



        }

        

private

 

void

 

btnConnect_Click

(

object

 sender, EventArgs e)
        {
            

try


            {

                Application.DoEvents();
            

if

 (btnConnect.Text == 

"Disconnect"

)
            {
                

if

 (_cn != 

null

)
                {
                    lblConnectionStatus.Text = 

"Disconnecting...."

;
                    _cn.Close();
                    _cn.Dispose();
                    _cn = 

null

;
                    btnConnect.Text = 

"Connect"

;
                    lblConnectionStatus.Text = 

"Not Connected"

;
                    lblConnectionStatus.ForeColor = Color.DarkRed;
                }
            }
            

else


            {
                

if

 (_cn == 

null

 || _cn.State == ConnectionState.Closed)
                {
                    lblConnectionStatus.Text = 

"Connecting...."

;
                    _cn = 

new

 OdbcConnection(

string

.Format(

"DSN={0}"

, cboListOfDSN.Text));
                    _cn.ConnectionTimeout = 

60

;
                    _cn.Open();
                    btnConnect.Text = 

"Disconnect"

;
                    lblConnectionStatus.Text = 

"Connected"

;
                    lblConnectionStatus.ForeColor = Color.Green;
                }

            }
            Application.DoEvents();
            }
            

catch

 (Exception ex)
            {
                Application.DoEvents();
                btnConnect.Text = 

"Errorred"

;
                MessageBox.Show(

string

.Format(

"Error - {0}, Stack Trace {1}"

, ex.Message, ex.StackTrace));
            }

        }

    

        

private

 

void

 

DisplaySalesReceiptInGrid

(

string

 customerListID)
        {
            

string

 query = 

string

.Format(

"SELECT CustomerListId, Comments, Cashier, SalesReceiptType, SalesReceiptItemListId,  SalesReceiptItemQty as ItemQuantity, SalesReceiptItemPrice As ItemPrice, TenderCash01TenderAmount As TotalTenderAmount FROM SalesReceiptItem where TxnID='{0}'"

, customerListID);
            ProcessQuery(query);
        }

     


        

private

 

void

 

InsertSalesReceiptLineItem

(

string

 customerName, 

string

 comments, 

string

 cashierName, 

string

 salesReceiptType, 

string

 itemName, 

int

 quanity, 

int

 rate, 

int

 tenderAmount)
        {            
            

string

 query =
                    

string

.Format(

"Insert Into SalesReceiptItem (CustomerListId, Comments, Cashier, SalesReceiptType, SalesReceiptItemListId,  SalesReceiptItemQty, SalesReceiptItemPrice, TenderCash01TenderAmount) Values ('{0}','{1}','{2}','{3}','{4}',{5},{6},{7})"

,customerName,comments,cashierName,salesReceiptType,itemName,quanity,rate,tenderAmount);
                

//query = string.Format("Insert into invoiceline(txnid,InvoiceLineItemRefFullName, InvoiceLineQuantity, InvoiceLineRate, InvoiceLineDesc) values('{0}','{1}',{2},{3},'{4}') ", txnID, itemFullName, quanity, rate, description);


                

//MessageBox.Show(query);


                

using

 (OdbcCommand QBEmployeecmd = 

new

 OdbcCommand(query, _cn))
                {
                    

//MessageBox.Show("" + QBEmployeecmd.Connection.State.ToString());


                    QBEmployeecmd.CommandType = CommandType.Text;
                    

//MessageBox.Show("" + QBEmployeecmd.CommandType.ToString());


                    QBEmployeecmd.ExecuteNonQuery();
                    

//MessageBox.Show("Execute Success");



                }
        }

        

private

 

void

 

ProcessQuery

(

string

 query)
        {
            

var

 cmd = 

new

 OdbcCommand(query, _cn);            
            DataSet dataSet = 

new

 DataSet();            
            OdbcDataReader reader = cmd.ExecuteReader();            
            DataTable myTable = 

new

 DataTable();
            myTable.Load(reader);
            grvData.AutoGenerateColumns = 

true

;
            grvData.DataSource = myTable;
        }

        

private

 

void

 

Form1_FormClosing

(

object

 sender, FormClosingEventArgs e)
        {
            

if

 (_cn != 

null

 && _cn.State != ConnectionState.Closed)
            {
                _cn.Close();
            }
        }

        

private

 

void

 

button1_Click

(

object

 sender, EventArgs e)
        {
            

this

.Close();
        }

        

private

 

void

 

button2_Click

(

object

 sender, EventArgs e)
        {
           
           
        }

        

private

 

void

 

btnSalesReceiptItem_Click

(

object

 sender, EventArgs e)
        {
            

try


            {
                

if

 (_cn == 

null

 || _cn.State == ConnectionState.Closed)
                {
                    btnConnect_Click(

null

, 

null

);
                }
                

if

 (

string

.IsNullOrEmpty(txtcustomerName.Text))
                {
                    MessageBox.Show(

"Customer Name is Required."

);
                    

return

;
                }
                

if

 (

string

.IsNullOrEmpty(txtComments.Text))
                {
                    MessageBox.Show(

"Comments is required."

);
                    

return

;
                }
                

if

 (

string

.IsNullOrEmpty(txtCashierName.Text))
                {
                    MessageBox.Show(

"Cashier Name is required."

);
                    

return

;
                }
                

if

 (

string

.IsNullOrEmpty(txtSalesReceiptType.Text))
                {
                    MessageBox.Show(

"Sales Receipt Type is required."

);
                    

return

;
                }
                

if

 (

string

.IsNullOrEmpty(txtItemName.Text))
                {
                    MessageBox.Show(

"Item Name is required."

);
                    

return

;
                }
                

if

 (

string

.IsNullOrEmpty(txtQuantity.Text))
                {
                    MessageBox.Show(

"Quantity is required."

);
                    

return

;
                }
                

if

 (

string

.IsNullOrEmpty(txtItemPrice.Text))
                {
                    MessageBox.Show(

"Item Price is required."

);
                    

return

;
                }
                

if

 (

string

.IsNullOrEmpty(txtTenderAmount.Text))
                {
                    MessageBox.Show(

"Tender Amount is required."

);
                    

return

;
                }
                InsertSalesReceiptLineItem(txtcustomerName.Text, txtComments.Text, txtCashierName.Text, txtSalesReceiptType.Text, txtItemName.Text, 

int

.Parse(txtQuantity.Text), 

int

.Parse(txtItemPrice.Text), 

int

.Parse(txtTenderAmount.Text));
                

string

 lastInsertedId = GetLastInsertedId(

"sp_lastInsertID SalesReceiptItem"

);
                DisplaySalesReceiptInGrid(lastInsertedId);
            }
            

catch

 (Exception ex)
            {

                MessageBox.Show(

string

.Format(

"Error - {0}, Stack Trace {1}"

, ex.Message, ex.StackTrace));
            }
        }
        

private

 

string

 

GetLastInsertedId

(

string

 query)
        {
            

string

 lastInsertedId = 

""

;
            

using

 (OdbcCommand QBEmployeecmd = 

new

 OdbcCommand(query, _cn))
            {
                QBEmployeecmd.CommandType = CommandType.Text;
                

var

 executedResult = QBEmployeecmd.ExecuteScalar();
                lastInsertedId = executedResult.ToString();               
            }
            

return

 lastInsertedId;
        }

    }
}

---