Knowledgebase

[QODBC-Desktop] Troubleshooting - Getting Error Unable to Bind to Specified IP Address
Posted by Jack - QODBC Support on 17 November 2016 11:44 AM
Troubleshooting - Getting Error Unable to Bind to Specified IP Address
Problem Description:
QODBC stopped working, and I got IP errors. All fixes I can find on support pages require that QRemote Server is started. QRemote Server will not start.

I get the error "Unable to Bind to Specified IP Address."


Solution:
1) Try to change the IP configuration on QRemote Server. Please change it to the default IP Address & Port

You can change it from File >> Setting >> Advanced Tab >> Select IP Address Configuration & Port Configuration to "Default."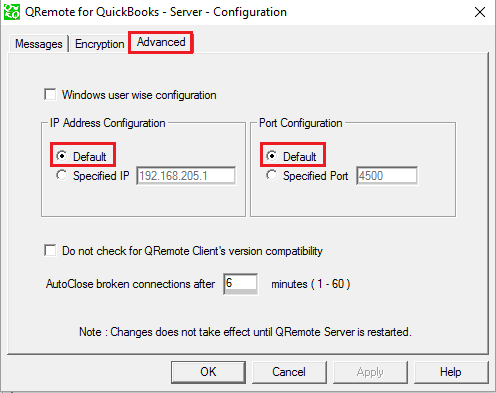 Please restart QRemoteServer after changing IP Address & Port. The change will affect after the restart of QRemoteServer.

2) Make sure the IP address is correct and the port is available and not blocked by any other application.
3) Exit/Quit from QRemoteServer. Navigate to File >> Exit
4) Start QRemote Server from the Windows Start menu.

5) Make sure QRemoteServer runs at the specified IP Address & Port. You can find QRemoteServer from the system tray.


Please note down the IP Address.
---