Knowledgebase

[QODBC-Desktop] Troubleshooting - Getting Error Unable to Bind to Specified IP Address
Posted by Jack - QODBC Support on 17 November 2016 11:44 AM
Troubleshooting - Getting Error Unable to Bind to Specified IP Address
Problem Description:
QODBC stopped working and I get IP errors. All fixes that I can find on support pages requires that QRemote Server is started. QRemote Server will not start.

I get the error "Unable to Bind to Specified IP Address".


Solution:
1) Try to change IP configuration on QRemote Server. Please change it to default IP Address & Port

You can change it from File >> Setting >> Advanced Tab >> Select IP Address Configuration & Port Configuration to "Default".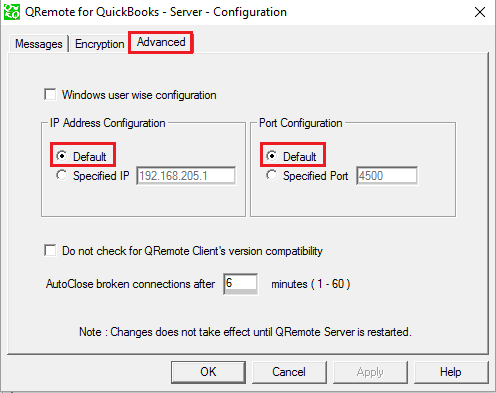 Please restart QRemoteServer after changing IP Address & Port. The change will affect after the restart of QRemoteServer.

2) Make sure IP address is correct and port is available and not blocked by any other application.
3) Exit/Quit from QRemoteServer. Navigate to File >> Exit
4) Start QRemote Server from the Windows Start menu.

5) Make sure QRemoteServer is running at specified IP Address & Port. You can find QRemoteServer from the system tray.


Please note down the IP Address.
---