Knowledgebase

[QODBC-Desktop] QODBC Quick Start Guide
Posted by Jack - QODBC Support on 09 September 2016 12:00 PM
QODBC Quick Start Guide
Download: QODBC 2018 Quick Start Guide (PDF)
QODBC Driver License Agreement
Introduction
What is ODBC?
ODBC (Open DataBase Connectivity) is a specification designed by Microsoft to:
1. Allow Windows applications to access multiple data sources through a single method regardless of the underlying file formats;
2. Overcome the problem of different databases having different means of providing access to the information contained within them and;
3. Simplify access requirements so that the user does not need special skills to access databases.
4. In the same way that Windows has created an environment where all applications have a similar look and feel, ODBC drivers make all database formats look the same.
What is QODBC?
QODBC is an ODBC driver (DLL) for QuickBooks data. QuickBooks by default stores its data in its own proprietary database file format (.qbw). Our driver allows users of any application that can connect to ODBC data sources to read and write data contained in QuickBooks format files.
QODBC works by accepting SQL (Structured Query Language) commands through the ODBC interface, then converting those calls to navigational commands to the QuickBooks application interface (QuickBooks SDK) and returning record sets that qualify for the query results. QODBC will not work without an installed QuickBooks application and SDK layer to read the data from the proprietary internal database.
If you are not familiar with the SQL language, you can find a tutorial here: http://www.w3schools.com/sql/default.asp
What can I do with QODBC?
QODBC opens up your QuickBooks data to a whole new world of database connectivity.
· If you own Microsoft Office, you can use Excel to extract company accounting or invoice information directly into a spreadsheet and create a chart.
· Microsoft Word can run a customer mail merge for a customized batch letter directly from QuickBooks files.
· Crystal Pro Report writer can create multi-file reports from QuickBooks data.
· Microsoft Access or Embarcadero Delphi can be used to merge QuickBooks data with other data sources to produce complex reports, or to run mass file updates based on multiple criteria.
Best of all, this driver is transparent, invisible and works just like any other ODBC driver. QuickBooks application developers now can offer this driver to their customers to allow them direct access to data important to them through custom third-party applications. Business owners who require up-to-the-minute data to make informed business decisions can have that real-time data instantly available in any one of hundreds of desktop applications.
Installation
Initial Setup
First, make sure QuickBooks is running and is logged in as Administrator. QODBC cannot access your QuickBooks data unless QuickBooks itself is running.
Double-Click on the Install program (qodbc.exe) to install the driver. You will be asked to select the Region of QuickBooks you are using, this should match the version of the driver you purchased.
Next, select the destination directory to install the QODBC support files. You can skip the Activation Key if you want to evaluate the product before purchase. Click "Next" to continue.
The FLEXquarters QODBC Driver for QuickBooks® has been successfully installed on your computer. You can begin to use it immediately under the terms of the free 30-day evaluation. It will work with all editions of QODBC depending on how it is configured. Note that the evaluation version limits inserts of records into QuickBooks to 20 per session. Windows 8 and higher users click here for additional details.
To install a fully purchased QODBC registration code to an evaluation copy from a previous download, see the Icons that have been added to your Start Menu under QODBC Driver for QuickBooks®

The first step in configuring the driver is to click on the ODBC Setup Screen icon. The following screen will be displayed.
Click on the "Test Connection to QuickBooks" button to determine if you have a proper installation and settings with QuickBooks and a company file open. The following popup screen should appear: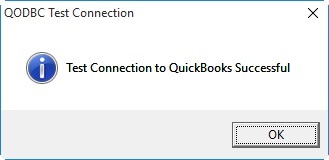 Note: If you encounter a Windows security issue, or Test Connection fails, please click here.
See QODBC Setup Options for more details on options available.
First use of QODBC after setup is complete
Click on the VB Demo icon to launch the demo. To establish a connection:
From the menu bar select "Connections"
Select "Add a new connection "
Select the QuickBooks Data Source you want to use
Click "OK" (The Default is QuickBooks Data).
After you click "OK" a QODBC splash screen will pop up if you are using the QODBC Evaluation version of the product, and a mouse click will allow you to continue. No splash screen appears in the registered version.
When QODBC tries to access the company file for the first time, QuickBooks will ask you for permission to allow the driver to access your QuickBooks company file.
Note: QODBC does have a digital certificate, but since another application (VB Demo) is trying to access QuickBooks through QODBC and QuickBooks does not know what the application is, it must ask you for permission.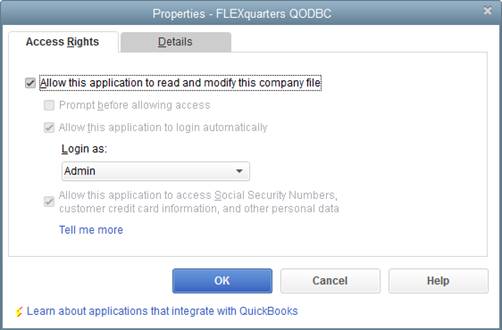 Check "Allow this application to access this company file."
Uncheck "Prompt before Allowing Access."
Check "Allow this application to log in automatically."
Check "Allow this application to access Social Security Numbers, cc information and other personal data" if appropriate.
This procedure need only be done once on a computer for QODBC to be able to connect with the QuickBooks data from any other ODBC compliant application in the future.
Additionally, if you plan to modify the files, you will also need to choose "Multi-User Mode" from the Files menu in QuickBooks to allow this.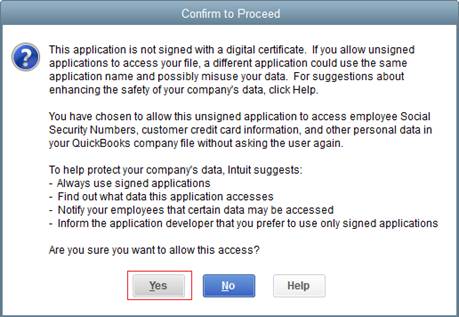 To change any of these options, from the QuickBooks Edit menu, select "Preferences" and then select "Integrated Applications".
Click the Company Preferences tab and make sure the "Don't allow any applications to access this company file" checkbox is not checked.
The "Notify the user before running any applications whose certificate has expired" checkbox can be checked.

If it is, however, automatic access will be suspended if the application's certificate expires.
Select the FLEXquarters

Q

ODBC driver you want to run automatically and click Properties.
Testing Driver Capabilities
Once permissions have been granted in QuickBooks for QODBC to access the company file via the VB Demo and the Current Connection Window shows "QuickBooks Data 1", you can click on the "Tables" button to obtain a list of all the QuickBooks tables that are available for your use.
You can view your customer data by clicking on the query button, or you can delete the default SQL statement and type in your own SQL statement to view the data you wish to be displayed. To explore the data available in QuickBooks via QODBC, click here.
To disconnect the VB Demo from your QuickBooks company file Click the "Disconnect" button.
How to setup QODBC to run without QuickBooks?
QODBC works as a Windows ODBC driver (DLL) for accessing the data contained in QuickBooks. QuickBooks Accounting stores its data in a proprietary encrypted file system.

Due to the nature of accounting systems, balancing, and transaction integrity, the QuickBooks system prevents all external applications from directly accessing the data used by QuickBooks. However, Intuit has created an alternative method of access -- the QuickBooks SDK (software development kit) which resides inside the QuickBooks application interface.

QODBC allows users of any ODBC compliant application to read and write data contained in the QuickBooks system similarly to any other ODBC enabled database, by processing commands via the QuickBooks SDK interface in the desktop application. Because of this, QODBC will not run if QuickBooks is not installed on the same machine, or on a connected machine (see: QRemote) because the SDK resides in the application layer itself.

QODBC works by accepting SQL (structured query language) commands from applications through the ODBC interface, then converts those calls to navigational XML commands, passing them to the QuickBooks SDK for processing. Recordsets that qualify will return the query results.

QuickBooks uses a flat file database, and this driver will not change it into a relational database, so keep that in mind when developing applications with this driver. QODBC acts as a 'wrapper' around the Intuit SDK so customers can get at their QuickBooks data using standard database tools, thereby speeding development time.

When QODBC starts, it will check if QuickBooks is running or not, if not it will launch QuickBooks in the background. QODBC will ask the QuickBooks application to load a certain company file if the company file path is specified.

You can run QuickBooks on the desktop or you can run it in "hidden" mode (see links below). Either way, it is running; the only difference is whether you see it on the desktop or not.
How to setup QODBC for Auto-login into QuickBooks
How to setup QODBC Driver to auto-connect to QuickBooks. (Video)

Note: QuickBooks requires you to approve the security settings for QODBC to allow it to access the data in QuickBooks one time for each application/company file combination. After this step, the connection to data in QuickBooks can be fully automated and not require user
input.
Q

ODBC Frequently Asked Questions
The Frequently asked questions about this product are constantly changing, so we have a web page setup with these questions and answers. A more detailed FAQ can be found at: http://support.qodbc.com.
Tutorials and Documentation
An additional information can be found on our website, including a full manual, step-by-step tutorials for popular applications, FAQs, data layout of QuickBooks and video tutorials.
Documentation:
· FAQ
· QODBC Manual & QODBC White Papers
Step by Step Tutorials http://www.qodbc.com/qodbctutorials.htm
· Connecting to QuickBooks the First Time
· Microsoft Visual Basic and ADO
· Deposits
Windows Support
QODBC version 18 supports Microsoft Windows 95, Windows 98, Windows NT, Windows ME, Windows 2000, Windows XP, Windows Vista, Windows 7, Windows 8, Windows 8.1 and Windows 10.
Product Support
We offer a free fully functional trial copy of QODBC limited to selected elements in the QuickBooks system. An FAQ section and a Help Desk support system is available for registered users and those evaluating QODBC. Those purchasing the product will receive installation support at no charge for 30 days from the date of purchase. Program anomalies will be addressed at no charge and updates posted on our website. Other issues may be subject to a fee.
Support can be obtained by the following methods:
Forum Online Support: http://support.qodbc.com
E-mail: mailto:info@qodbc.com
Mail: FLEXquarters USA Sales
P.O. Box 1466 Clarkston, MI 48347
The most effective of these methods is the online support system via our website since you can attach an ODBC or SDK trace log to the message, and we can attach an updated product to you if we have a patch.
Product Updates
The latest updated versions will always be available online at our web page: http://www.qodbc.com/qodbcDownload.htm
QODBC Credits
QODBC versions 2.x thru 18.x
For Microsoft Windows 95, Windows 98, Windows ME, Windows NT, Windows 2000 Windows XP, Microsoft Windows, Vista, Windows 7, Windows 8 and Windows 10.
© Copyright 1995-2017, FLEXquarters.com Limited, All Rights Reserved Worldwide
Portions of this product © Copyright Intuit Incorporated
QODBC is a trademark of FLEXquarters.com Limited
QuickBooks Pro, QuickBooks Premier, QuickBooks Enterprise Solution and QuickBooks Online Edition are registered trademarks of Intuit Incorporated
Windows, Vista, Windows 7, Windows 8 and Windows 10 are registered trademarks of Microsoft Corporation All other trademarks are the property of their respective holders.
Version 18.0 First released September 2017
Program published and supported by:
FLEXquarters.com Limited
41-43 Carnarvon Road Suite 809
Tsim Sha Tsui Kowloon Hong Kong
USA Mailing Address:
2620 S Maryland Pkwy Ste 14-557
Las Vegas, NV 89109-1692
www: http://www.qodbc.com
E-mail: info@qodbc.com
Fax: 801-306-6619
USA Sales Office:
FLEXquarters USA Sales
P.O. Box 1466
Clarkston, MI 48347
E-mail: mark@qodbc.com
Voice: 248-620-2400
Licensing Support: 248-620-2406 (Registered user activation/deactivation issues only)
Other Regional Sales Numbers:
United Kingdom: +44 (0)845 638 3730 sales@architectronic.com
Australia/New Zealand/Southeast Asia: +61 3 9761 3644 tom-a@dataaccess.com
International: +1 248-620-2400 sales@qodbc.com
The program developed by Brad Waddell and Matthew Froncek.
Documentation produced by Mark Kuznar, Brad Waddell, Rajendra Dewani and
Matthew Froncek.
Tags: configurations, permissions, user rights
---