Knowledgebase

[QODBC-Desktop] Writing to QuickBooks safely / Always connect in Read Only Mode
Posted by Jack - QODBC Support on 19 August 2015 02:13 PM
Writing to QuickBooks safely
Problem Description:
I'm a little concerned about the write feature and changing any current data in QuickBooks from the Excel files I want to experiment in. Are my concerns valid or what is the best way for me to prevent that from occurring?


Solutions:
Updating any record in Excel sheet will not fire update command or change anything on QuickBooks (unless using VBA script). For better security, you can enable "Read-Only Access" feature from the QODBC Advanced tab to avoid any application using QODBC to Write to QuickBooks.


You can disable write permission by enabling "Read-Only Access" options from:

Start>>All Programs>> QODBC Driver for use with QuickBooks>>QODBC Setup Screen>>Advanced Tab>> Enable "Read-only access" option. & apply the changes.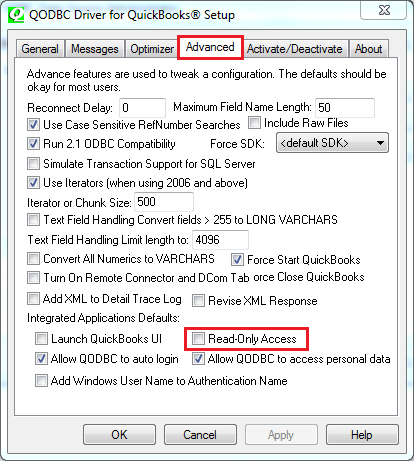 You can make a copy of the company file and test on that. So your original company file will be safe.


OR


You can take backup company file & restore it whenever needed.
QODBC does not write to the QuickBooks company file directly, QODBC is writing through the QuickBooks SDK, which follows all business rules & validation.
Tags: configurations, permissions, user rights
---