Knowledgebase

[QODBC-Desktop] QuickBooks can't start because it is already running.
Posted by Jack - QODBC Support on 05 August 2014 01:50 PM
Troubleshooting: QuickBooks can't start because it is already running.
Problem Description 1:
I cannot Connect my trial version of QODBC to QuickBooks. I have gone through your tutorials but am unable to connect. I have never had the "Keep QuickBooks running for the quick start-up" Checked. Also, I have verified that only one instance of QBW32.EXE is running from all user processes.

Problem Description 2:
I am trying to connect to QuickBooks using QODBC. Within QuickBooks, I receive no message box to allow QODBC access. Only errors. QODBC has not been listed in Preferences>Integrated Applications. All QuickBooks instances (and other QB/Intuit processes) were killed. QODBC Test Tool was unable to connect. Get the following error:

QuickBooks already has a company file open. If you want to open another company file, close this one first. Only QuickBooks Accountant & QuickBooks Enterprise Solution can open two company files simultaneously.
Solutions:
Please ensure that you are running QuickBooks & QODBC both in the same user context (i.e., Both applications should be run as a contexted user, or both apps should be run as an Admin user).

You may face this issue if both applications are run in different user contexts. I kindly request you to please verify the same & test connection through QODBC Test Tool.

I think your QuickBooks is running with an Administrator user & the QODBC Test Tool application is running as Contexted user. Thus QODBC Test Tool can't find QuickBooks running & you are facing the issue.

Please make sure that your QuickBooks is not running as an Administrator. You can verify it by right-clicking the QuickBooks shortcut, going to "Properties," & navigating to the "Compatibility" tab & make sure that the "Run this program as an administrator" option is unchecked. If this option is enabled, then please disable it & apply the changes.

Please restart the QuickBooks login to company files & test the connection using the QODBC Test Tool application.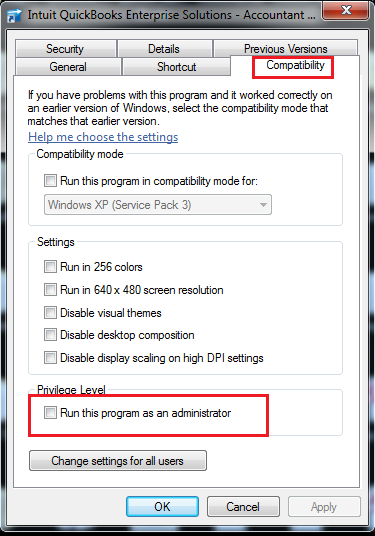 If the above does not resolve the issue, please run QuickBooks & QODBC Test Tool both as "Run as Administrator" & try to connect.
Note: If you can connect by running QuickBooks & QODBC Test Tool as "Run as Administrator," that means there is some issue in your system. Due to this, QuickBooks cannot run as a context user. You need to repair your system to resolve this issue.
---