Knowledgebase

[QODBC-Desktop] QuickBooks can't start because it is already running.
Posted by Jack - QODBC Support on 05 August 2014 01:50 PM
Troubleshooting: QuickBooks can't start because it is already running.
Problem Description 1:
I cannot Connect my trial version of QODBC to QuickBooks. I have gone through your tutorials, but unable to connect. I have never had the "Keep QuickBooks running for the quick start-up" Checked. Also, I have verified that only one instance of QBW32.EXE is running from all user processes.

Problem Description 2:
I am trying to connect to QuickBooks using QODBC. Within QuickBooks, I receive no message box to allow QODBC access. Only errors. QODBC has not listed in Preferences>Integrated Applications. All instances of QuickBooks (and any other QB/Intuit processes) were killed. VB Demo was unable to connect. Get the following error:

QuickBooks already has a company file open. If you want to open another company file, close this one first. Only QuickBooks Accountant & QuickBooks Enterprise Solution can open two company files at once.
Solutions:
Please make sure that you are running QuickBooks & QODBC both in same user context (i.e. Both applications either should be run as contexted user or both apps should be run as Admin user).

If both applications are run in different user context, then you may face this issue. I kindly request you to please verify the same & test connection through VB Demo.

I think your QuickBooks is running with Administrator user & VB Demo application is running as Contexted user. Thus VB Demo can't find QuickBooks running & you are facing the issue.

Please make sure that your QuickBooks is not running as an Administrator. You can verify it by right-clicking QuickBooks shortcut, go to "Properties" & navigate to "Compatibility" tab & make sure that "Run this program as an administrator" option is unchecked. If this option is enabled, then please disable it & apply the changes.

Please restart QuickBooks login to company files & test connection using VB Demo application.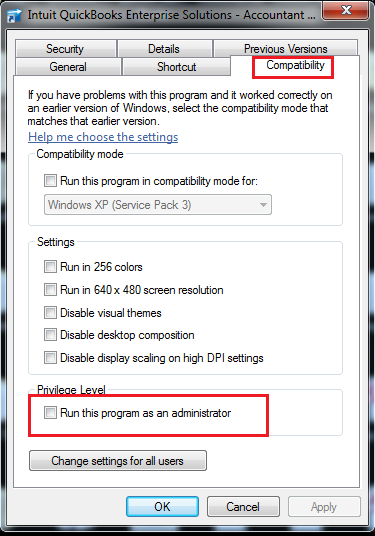 If above does not resolve the issue, then please run QuickBooks & VB Demo both as "Run as Administrator" & try to connect.
Note: If you are able to connect by running QuickBooks & VB Demo as "Run as Administrator" that means there is some issue in your system due to this QuickBooks is not able to run as context user. You need to repair your system to resolve this issue.
---