Knowledgebase
[QODBC-Desktop] How to get QuickBooks Canada and USA on same computer - QODBC Region Key
Posted by Rajendra Dewani (QODBC Support) on 17 April 2014 02:36 PM
Problem Description:
I called QuickBooks, and they said we could run QuickBooks Canada 2005 alongside QuickBooks USA 2004 on the same computer with no problem.
They said the problems happen when you try to run USA/Canada QuickBooks on the same computer when both are in the same year.
I have installed QuickBooks Canada 2005, and it does seem to work with my QuickBooks USA 2004
We currently own QODBC USA, and I plan to buy QODBC Canada.
How can I run QuickBooks Canada and USA on the same computer?
Solution:
You will not be able to run both versions of QODBC on the same computer.
If you want to run both versions of QODBC on the same computer, you need to modify registry values.
If you do not have a problem doing this, you can run both versions of QODBC.
We highly suggest that you consider running the Canadian and USA versions of QuickBooks on different computers because there's a lot more that can go wrong here than just the QODBC Region key, which can be found at:
My Computer\HKEY_LOCAL_MACHINE\SOFTWARE\QODBC Driver for QuickBooks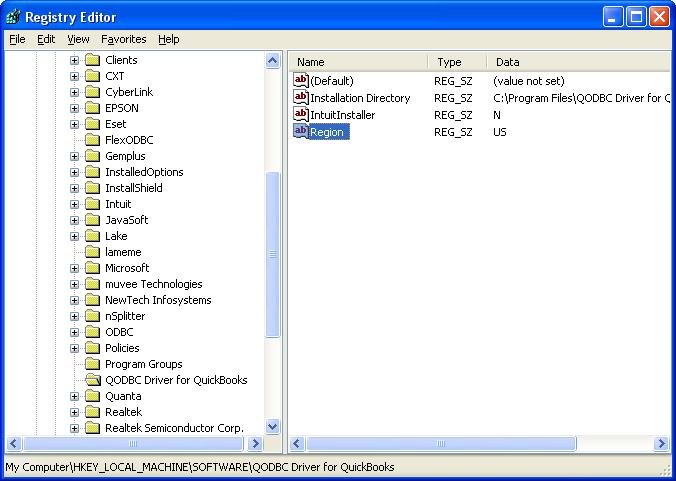 The valid values are the US (USA), CA (Canada), UK (United Kingdom), and OZ (Australia/New Zealand/Asia); however, CD Keys are locked to a region value except for the US and CA, which share the same CDKEY.
---