Knowledgebase
[QODBC-Desktop] Troubleshooting: QuickBooks Reports "The Certificate is Invalid"
Posted by Rajendra Dewani (QODBC Support) on 17 April 2014 12:09 PM
Troubleshooting

:

QuickBooks Reports "The Certificate is Invalid"
Problem Description:
When first using the application to access QuickBooks via QODBC, it will pop up a window to ask the user to give the certificate to this application.
But now facing a problem that QuickBooks reports the certificate is not valid:
When trying to test the connection, QODBC reports this error:
Solution:
First please make sure that you are connected to the Internet on the machine.
Then please check the property of your fqqb32.dll file. You can find the fqqb32.dll file at:
C:\Windows\SysWOW64 (64-bit system) C:\Windows\System32 (32-bit system)
Right click on that file, select "Properties" option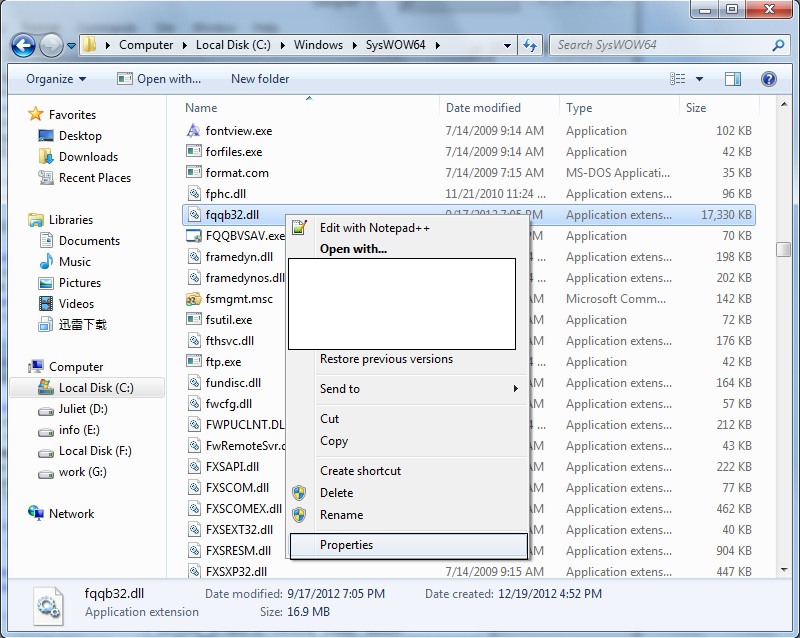 In the "property" window, go to "Digital Signature" tab, check if the certificate of "FLEXquarters.com Limited" is valid by clicking "Detail" button.
If it is not showing up valid, please follow the steps below to install the certificate:
1) Make sure Internet is available on that machine and it can reach to VeriSign's website
2) On the Properties of the file fqqb32.dll, click on "Digital Signature", view the signature. Click on "View Certificate", and then click on "Install Certificate".
3) Restart the machine.
4) Test the connection again to see if the problem is fixed.
If the above solution does not work, then you need to manually install the certificate by using below link:
http://www.symantec.com/business/support//index?page=content&pmv=print&impressions=&viewlocale=&id=TECH218029
Note: Windows 7 doesn't support SHA256 signatures by default. You need to apply windows up
Refer:
Microsoft security advisory: Availability of SHA-2 code signing support for Windows 7 and Windows Server 2008 R2: March 10, 2015
Microsoft Security Advisory 2949927
You cannot run an application that is signed with an SHA-256 certificate on a computer that is running Windows Vista SP2 or Windows Server 2008 SP2
---