Knowledgebase
[QODBC-Desktop] How to view QODBC driver digital certificate
Posted by Rajendra Dewani (QODBC Support) on 11 December 2012 09:42 AM
How to view QODBC driver digital certificate
QODBC Driver does have a digital certificate. To verify or know more about Digital Certificate details, Please right-click on fqqb32.dll/properties in the Windows>System 32/SysWow64 Directory.
Below are detailed Steps.
1) Locate and Navigate to Windows System Directory
Right Click on "My Computer" and select Open
Navigate to System Directory
For Windows 64-bit Operating System: c:\Windows\SysWOW64

For Windows 32-bit Operating System: c:\Windows\System32
2) Locate/Find the file fqqb32.dll
3) Right Click on fqqb32.dll and select "Properties."
4) Switch to the tab "Digital Signature."
5) Click "Detail" to know Certificate details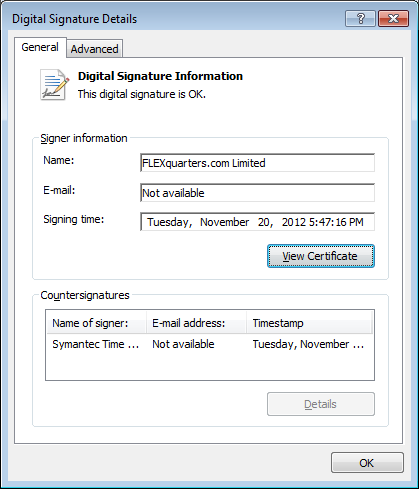 6) To know more about the Certificate, like its expiry and the issuer, please click View Certificate
---