[QODBC-Desktop] QuickBooks Data not showing up in the list of data sources
Posted by Rajendra Dewani (QODBC Support) on 23 August 2012 06:11 AM
Problem Description:
When I attempt to configure driver and data source, only QRemote for QuickBooks driver is visible; please see below: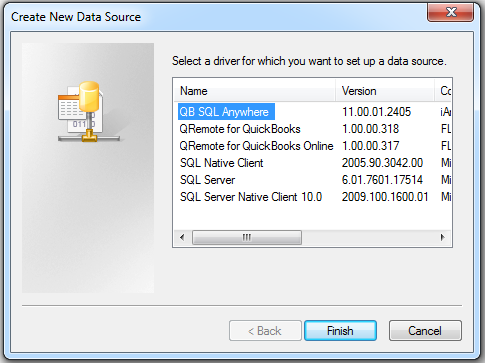 Where can I find QuickBooks Data driver? Don't I need to configure QuickBooks Data driver instead of QRemote for QuickBooks driver?
Solution:
Summary about Using 32-bit ODBC driver on 64-bit system
On a 64-bit system, 32-bit ODBC drivers are available to 32-bit applications, but not to 64-bit applications. If your application is 32-bit, then you need to use 32-bit ODBC driver. If your application is 64-bit, then you need to use 64-bit ODBC driver. You need to choose ODBC driver as per your application architecture, not as per your OS architecture. Since QODBC is a 32-bit only ODBC driver, the only applications that can access it are 32-bit applications.
In the 64-bit system when you open ODBC Data Source Manager by default it will open 64-bit ODBC Data Source manager. You can run the default system data source from:
Start -> Control Panel -> Performance and Maintenance -> Administrative Tools -> Data Source (ODBC)
This brings up Data Source listing the 64-bit drivers
How to open a 32-bit ODBC Data Source Manager under a 64-bit System
You can open 32-bit ODBC Data Source manager from:
1.Click Start -- > All Programs -- > QODBC Driver for use with QuickBooks -- > Configure QODBC Data Source.
Or
2. You can run the 32-bit ODBC admin utility to see 32-bit data source from 32-bit ODBC Data Source Manager:
Navigate to C:\Windows\SysWOW64\ folder and find odbcad32.exe & run odbcad32.exe by double click on it :
C:\Windows\SysWOW64\odbcad32.exe

Tags: ODBCAD32, QuickBooks Data, 64 bit, Driver Not Showing, No Driver listing
Also, Refer:
How to setup QODBC for Auto-login into QuickBooks
---