Knowledgebase
[QODBC-POS] How to Setup and Connect QODBC POS to QuickBooks for the First Time
Posted by Juliet (QODBC Support) on 24 May 2010 08:28 AM
How to Setup and Connect QODBC POS to QuickBooks for the First Time
Install QODBC POS
Download the latest QODBC POS version from the QODBC website:
http://www.qodbc.com/pos/default.htm
Double click the QODBC POS version icon to launch the installation process.
Follow the steps in QODBC for POS Manual to finish the installation.
Open QuickBooks POS and Create a New Company Name
Double click the QuickBooks POS icon to launch QuickBooks POS. If it's the first time you open your QuickBooks, it will pop out a window asking you to input a unique name for the new company data. You can also edit your company data name via menu File -> Company Data.
Here I input "test" as a new company data name. Then click OK.
Then return to the QuickBooks POS home interface.
Setup QODBC POS
Open the QODBC POS Setup Screen via Start -> All Programs -> QODBC Driver for QuickBooks POS -> QODBC POS Setup Screen .
Setup Data Name
Data Name is a display name for your QuickBooks POS data (QuickBooks POS Data, QBPRO, My QB Data, etc.).
Here I choose the default DSN QuickBooks POS Data.
Setup Connect String
Here Connect string includes two parameters: Computer Name and Company Data.
Computer Name is the name of your computer goes here. Company Data is the name of your data file goes here. (I just created a new company data named "test")
Input the value of Connect String and then click OK.
Connect QODBC POS to QuickBooks for the First Time
The first time you run this driver (for example, you can test it using the VB Demo program included), you need to be running QuickBooks POS Pro on the machine at the same time and logged in as Administrator. This is for security reasons.
Click on the VB Demo icon to launch the demo. To establish a connection: From the menu bar select Connection -> Add a new connection, select the QuickBooks POS Data Source you want, Click OK.
After you click OK a Q ODBC splash screen will pop up if you are using the Free QODBC Basic Edition of the product, and a mouse click will allow you to continue. No such splash screen appears in the registered version.
When the driver starts, QuickBooks POS will ask permission for the driver to access your QuickBooks POS data. Answer Yes, Always to this and the Q ODBC driver is added to the Integrated Application list.
This will allow applications to integrate with QuickBooks POS data when QuickBooks POS is running on the desktop. There may be instances in which you want an integrated application designed to share data with QuickBooks POS to access QuickBooks POS files automatically, without user intervention. This might permit, for example, a particular application to run during the night when there is no other activity in the company file. Also QuickBooks POS need not be running for ODBC compliant applications to access the data files while setting in this mode.
Then you can run the query in VB Demo now.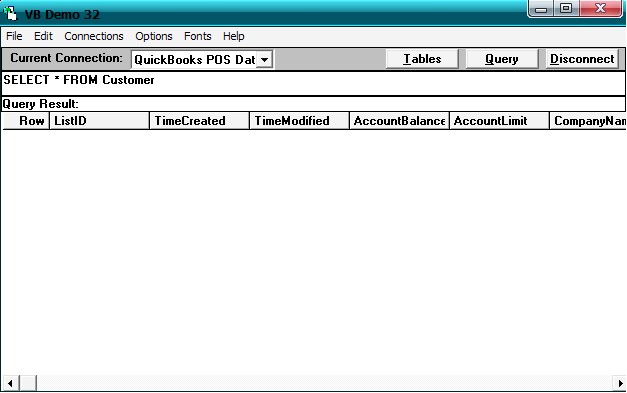 ---