Knowledgebase
[QODBC-Desktop] How to view details on what QODBC is performing / Display Driver Status / Display optimizer Status
Posted by Rajendra Dewani (QODBC Support) on 14 April 2014 04:06 PM
How to view details on what QODBC is performing
Problem Description:
QODBC and my application are not responding, how can I know what QODBC is performing in the background?
Solution:
You can enable QODBC status panel via: Start >> All Programs >> QODBC Driver for use with QuickBooks >> Configure QODBC Data Source
Go To the "System DSN" Tab, select "QuickBooks Data" DSN & click "Configure".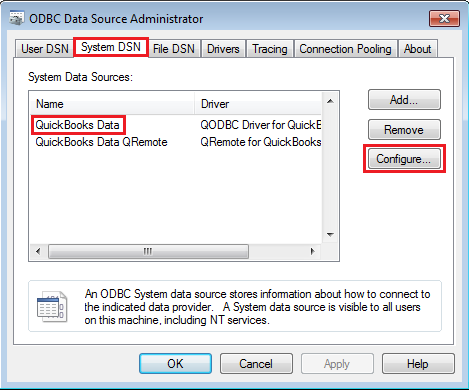 Navigate to the "Message" tab ->Select "Display Driver Status" and "Display optimizer Status" options.
Then the next time you run a query, if you see "Waiting for QuickBooks", It means QuickBooks is taking time to process the request.
There will be a status panel at the lower right corner of your screen, showing a window with information on what QODBC is working at.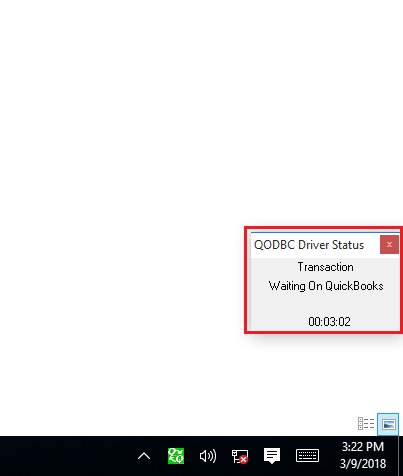 Please note the step on which QODBC spends the most time or gets stuck and share it with us.
Suggestion:
Suppose you have a large company file with multiple years. QuickBooks and QuickBooks SDK would require more time to process your data required.
We would suggest splitting the company file to make it smaller. You can keep the historical data in one company file and the latest one in another.
This way, your company file will be smaller and with a smaller number of records.
Refer to
https://quickbooks.intuit.com/learn-support/en-us/other-questions/best-way-to-split-large-company-file/00/1081335
https://quickbooks.intuit.com/learn-support/en-us/account-management/create-a-new-company-file-from-the-existing-company-file/00/203213
Tags: configurations, why QODBC is slow. QODBC not responding
---