Knowledgebase
[QODBC-ALL] Unable to Activate/Deactivate QODBC even thou running as Administrator (You do not have Sufficient Permissions)
Posted by Rajendra Dewani (QODBC Support) on 07 January 2013 03:01 PM
Problem
I am unable to Activate/Deactivate the currently installed version. I am logged in as Administrator, with admin rights, and right-clicking on the Setup and selecting "Run As Administrator" does not change the result.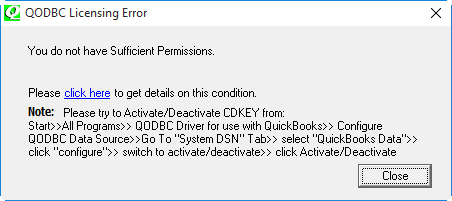 You do not have Sufficient Permissions. Please run QODBC Setup Screen as Administrator. Also, make sure your current user has a password and try again.
Solution 1: Try from Data Source.
Click Start -- > All Programs -- > QODBC Driver for use with QuickBooks -- > Configure QODBC Data Source.
Alternative: The 32-bit ODBC manager can be found at C:\windows\sysWOW64\odbcad32.exe.

Switch to System DSN -- Click QuickBooks Data -- Click Configure. These will open QODBC Setup Screen.
Switch to Activate/Deactivate window and try again.
Solution 2: Your Administrator account should have a password. Please set a password for your Administrator Account and try again by Right Clicking on QODBC Setup Screen and selecting "Run As Administrator."
Tags: Sufficient Permissions, Permission, Administrator, Admin
---