Knowledgebase
[QXL-All] Input string was not in a correct format
Posted by Andy - QODBC Support on 05 July 2022 12:38 PM
Input string was not in a correct format
Problem Description :
I am running QXl and MS Office 365.
I have tried exporting to XLSX, XLS, and even CSV format, but only the file header row writes.
Also, I am getting the below error in QXL logs:
Error Occurred: When attempting to update the value: 80000007-1539326465 - Input string was not in a correct format. select * from Account , QXL, AdditionalInfo : tableSelection - Account, Table-0, Tables-151
Solution:
Please Open the 'Region Setting' and verify each 'Region setting' as formatted in the below screenshots.
Please press the 'Windows' key and type the 'Region Setting' in the search bar.
Please open 'Region Settings'.
Please click on the 'Related Settings'.
Please click on the 'Region'.
Please click on 'Additional Settings...', and it should open the 'Customize Format' window.
In the 'Number' tab, please ensure you have given input as "."(Dot) in 'Decimal Symbol', which you can see as displayed in the screenshot below.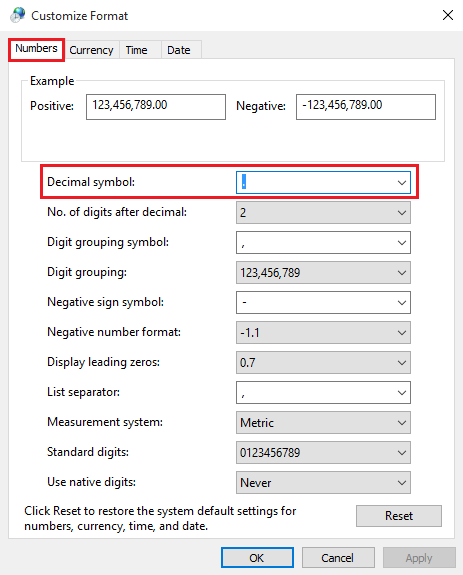 In the 'Currency' tab, please select a 'Currency Symbol' according to your country currency symbol.
As per my regional settings, I have selected the UK currency symbol(£) here.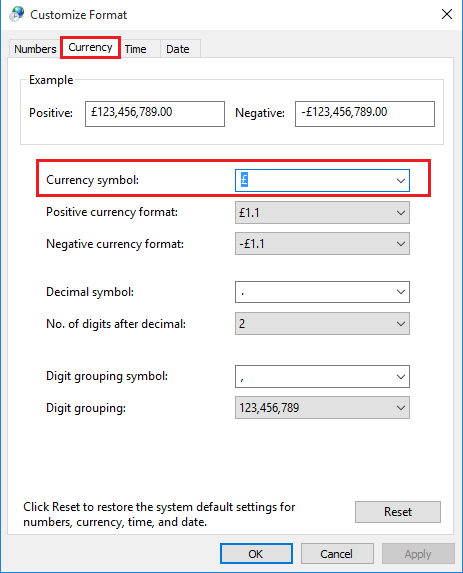 In the 'Time' tab, the 'Short Time' should be in the valid format.
Please specify the 'Short Date' format in the 'Date' tab according to your country date format.
Please click on apply and save the settings.
Please retest the same issue you are facing.
If you are still facing the issue, please raise a support ticket with us. (Click Here for raising a support ticket.)
Please attach the below-listed files while submitting the ticket to analyze the issue you are facing.
1) Screenshot of QODBC Setup Screen -- > About (Start>>All Programs>> QODBC Driver for use with QuickBooks>> QODBC Setup Screen >> About Tab)
2) Screenshot of the problem you are facing. (as an attachment)
3) SQL Statement having issue (if any) (an attachment)
4) Screenshot of the application having an issue (as an attachment) -Full Screen
5) Sample code (if any) (as an attachment) Log Files from 6) QODBC Setup Screen -- > Messages -- > Review QODBC Messages (as an attachment)
7) QODBC Setup Screen -- > Messages -- > Review SDK Messages (as an attachment)
8) Did you upgrade anything? Please refer to How to take a screenshot: www.qodbc.com/links/screenshot.htm
---