[QODBC-Desktop] Troubleshooting - QODBC no longer licensed for this Reckon version
Posted by Rajendra Dewani (QODBC Support) on 27 October 2017 08:14 AM
Troubleshooting - QODBC no longer licensed for this Reckon version
Problem Description:
We have been using QODBC without problems with our current QuickBooks version for months. Suddenly QODBC has stopped working on all our computers.

I have tried a few different QODBC versions, including the latest, but none work.
QODBC users are being faced with a QODBC message that "QODBC no longer licensed for this Reckon version"

Reinstalling and/or upgrading to v322 doesn't help. Some users still on v321 and the same message is coming up.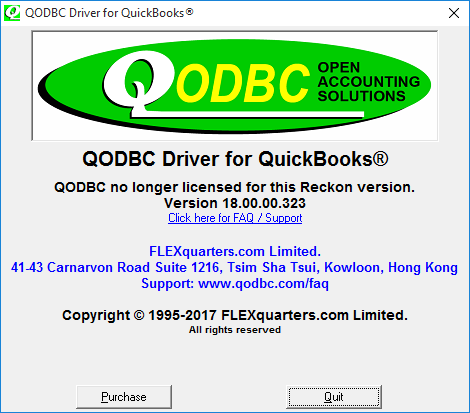 Solution:
QODBC Read Only edition was available for free with Reckon Pro/Premier/Enterprise till Oct 26, 2017.
The contract for free use by Reckon Accounts users ended/terminated on the above date.
To continue using QODBC for Reckon Accounts, Please purchase a QODBC License.
You can Purchase a QODBC License for Reckon Accounts by Clicking here or Visit http://qodbc.com/order.htm and then click "Asia Pacific"
Or contact your local dealer (Australia/New Zealand/Southeast Asia) Visit http://qodbc.com/contact.htm
---