[QODBC-Desktop] How to use QRemote with ColdFusion
Posted by Jack - QODBC Support on 28 October 2016 12:25 PM
How to use QRemote with ColdFusion
Instructions about using QRemote with ColdFusion
Using ColdFusion, whether it's an internal Intranet or on the World Wide Web, requires the Server Edition of QODBC. QuickBooks must be running with the company file opened on the system console.
The first thing is to configure the QRemote Server.
Please refer: How to configure QRemote
ColdFusion Data Source Setup Instructions
Run the ColdFusion Administrator. Enter your username & password & login.


Under DATA & SERVICES choose Data Sources.


Use "QBs" as the Data Source name if you want to match the DisplaySQL.cfm sample script below. The Driver is ODBC Socket. Press the Add button.
Under ODBC DSN choose a QuickBooks DSN. QuickBooks Data QRemote is a DSN that is created by the QODBC installation. Username should be set to Admin. You can put any notes you want in the description field.
Next Press the Show Advanced Settings Button.
Make sure the Limit Connections and Maintain Connections are unchecked. You can remove the checkboxes on Create, Drop, Alter, Grant and Revoke. Add checkboxes for Select, Insert, Update, Delete and Stored Procedures.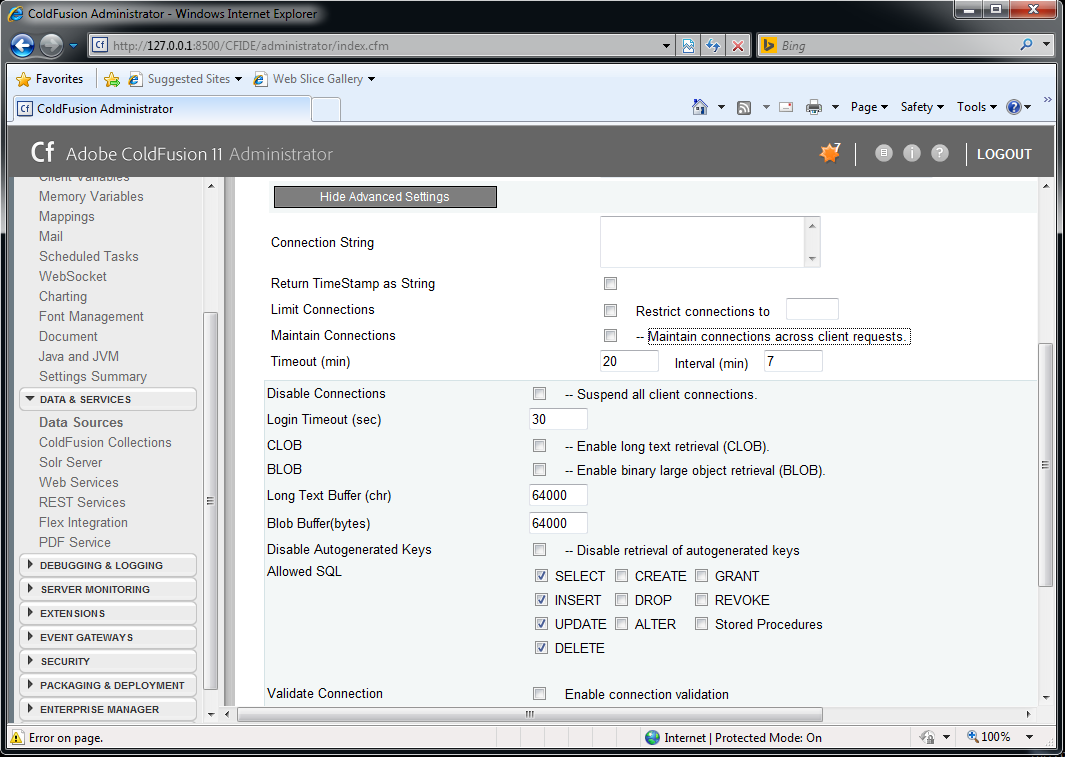 Press Submit and your QODBC Data Source should show on the list of Data Sources.
DisplaySQL.cfm uses dataSource="QBs" which is the QuickBooks Data QRemote DSN.
Sample Code:
<cfscript>
queryObj = new query();
queryObj.setDatasource("QBs");
queryObj.setName("qListOfArts");
result = queryObj.execute(sql="SELECT Top 10 ListId, Name, FullName,Phone from customer");
qListOfArts = result.getResult();
metaInfo = result.getPrefix();
queryObj.clearParams();
writeDump(qListOfArts);
writeDump(metaInfo);
</cfscript>
To run this, Place this file under "CFIDE" & run through the browser.
The query result is shown above.
Keywords: PHP, IIS, ColdFusion, can it work with PHP, service based application
---