Knowledgebase
[QODBC-ALL] Using QuickBooks Data with VBA
Posted by Rajendra Dewani (QODBC Support) on 17 June 2014 07:37 AM
Using QuickBooks Data with VBA
Problem Description:
Everything worked perfectly with the installation and linking to MS Access 2010 and QuickBooks Pro11. The tables I needed were related to my database in access. However, how do I update (or can I update) QuickBooks using a form (linked to my tables downloaded to Access Form using QODBC )in MS Access?
Solution:
You can insert/update/delete records by accessing local table. You need to write a VBA script to perform the SQL operation or Can, execute existing Queries Or can link the form to the existing table.
Please refer below steps which contains a sample tutorial for How QODBC can work with VBA. The tutorial is for sample reference only. For further requirements you need to develop a form or write scripts that will fetch data from a local access table and perform the insert operation in QuickBooks using QODBC.
Creating a Form in Microsoft Access:
Note: Microsoft Access is a product with many uses and will allow you to use your QuickBooks Data files in the same fashion as Access databases.
Open MS Access. You can find it via Windows Start->All Programs->Microsoft Office:
A default database file, name Database1 appears in the box. You can edit this to a more relevant name, such as QB Link. acid. Save the file as type "Microsoft Office Access Databases."
Then Click "Create" to create a blank database:
After the new database is created, Create a New Form via the "Form Design" link in Create Tab:
After the new form is created, Insert a button in the form:
Rename the button as per your requirement (In this example button name is "Select Customer"):
Now go to the button property window and set the property for the "On Click" event. Select "Event Procedure" from the dropdown list, then click on the "..." button:
The new window is open, which contains VBA code (In this example, it contains code button click event):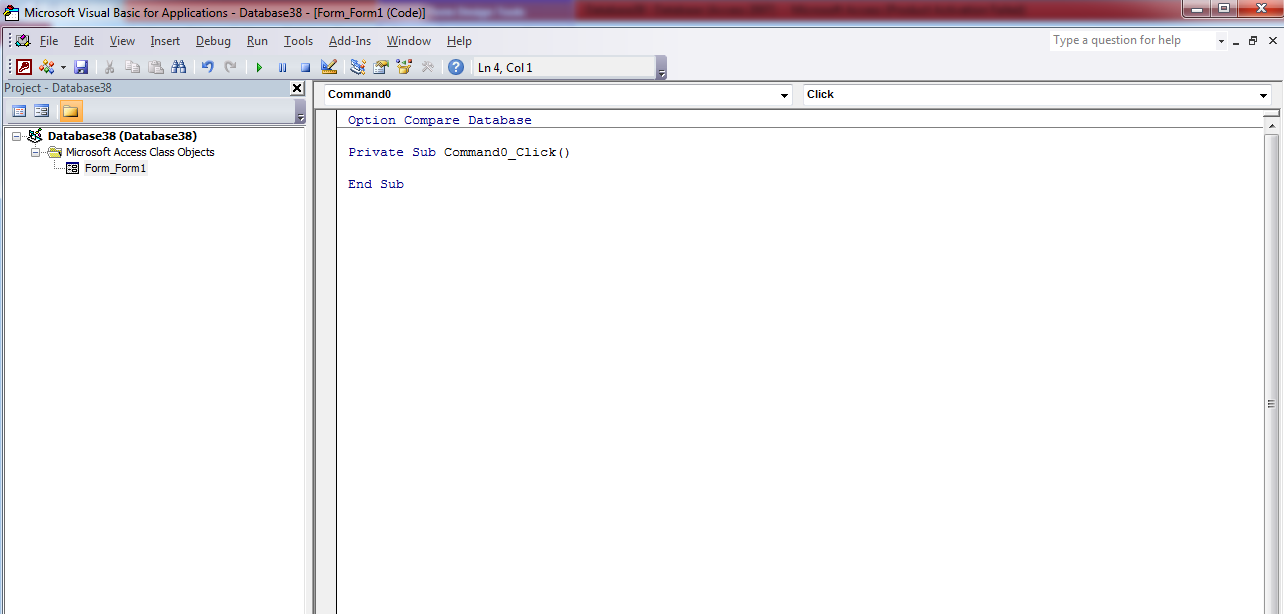 Now Insert the module in the form by Right-clicking on the form:

Write code in the module (In this example, I am writing code for the selection of customer name):
Link newly created module with button click event:

Now click on the "Select Customer" button, and you will get the Name of all customers:
Repeating the above steps can add functionality to your VBA code as per your requirement. In this example, I have added functionality for Insert, Update & Delete of customer records:
By clicking on the "Insert Customer" button, the New customer is added with the name "Testing VB":
By clicking on the "Update Customer" button, Newly added customer name is updated with the name "Updated Testing VB":
By clicking on the "Delete Customer" button, Newly added customer is deleted:
Please refer below code which is used in this example:
Select Customer:
Public Sub example select()
Const adOpenStatic = 3
Const adLockOptimistic = 3
Dim oConnection
Dim oRecordset
Dim sMsg
Dim sConnectString
Dim sSQL

sConnectString = "DSN=QuickBooks Data;OLE DB Services=-2;"
sSQL = "SELECT Name FROM customer"
Set oConnection = CreateObject("ADODB.Connection")
Set oRecordset = CreateObject("ADODB.Recordset")

oConnection.Open sConnectString
oRecordset.Open sSQL, oConnection, adOpenStatic, adLockOptimistic
sMsg = "**********************" & Chr(100)
Do While (Not oRecordset.EOF)
sMsg = sMsg & oRecordset.Fields("Name") & Chr(100)
oRecordset.MoveNext
Loop
sMsg = sMsg & "**********************"
MsgBox sMsg

oRecordset.Close
Set oRecordset = Nothing
oConnection.Close
Set oConnection = Nothing
End Sub

Insert Customer:
Public Sub exampleInsert()
Const adOpenStatic = 3
Const adLockOptimistic = 3

Dim oConnection
Dim oRecordset
Dim sMsg
Dim sConnectString
Dim sSQL

sConnectString = "DSN=QuickBooks Data;OLE DB Services=-2;"
sSQL = "Insert into customer (Name) values ('Testing VB')"
Set oConnection = CreateObject("ADODB.Connection")
Set oRecordset = CreateObject("ADODB.Recordset")
oConnection.Open sConnectString
oConnection.Execute (sSQL)
sMsg = sMsg & "Record Added!!!"
MsgBox sMsg

Set oRecordset = Nothing
Set oConnection = Nothing
End Sub


Update Customer:
Public Sub exampleUpdate()
Const adOpenStatic = 3
Const adLockOptimistic = 3

Dim oConnection
Dim oRecordset
Dim sMsg
Dim sConnectString
Dim sSQL

sConnectString = "DSN=QuickBooks Data;OLE DB Services=-2;"
sSQL = "Update customer set Name='Updated Testing VB' where name='Testing VB'"
Set oConnection = CreateObject("ADODB.Connection")
Set oRecordset = CreateObject("ADODB.Recordset")
oConnection.Open sConnectString
oConnection.Execute (sSQL)

sMsg = sMsg & "Record Updated!!!"
MsgBox sMsg

Set oRecordset = Nothing
oConnection.Close
Set oConnection = Nothing
End Sub


Delete Customer:
Public Sub exampleDelete()
Const adOpenStatic = 3
Const adLockOptimistic = 3

Dim oConnection
Dim oRecordset
Dim sMsg
Dim sConnectString
Dim sSQL
sConnectString = "DSN=QuickBooks Data;OLE DB Services=-2;"
sSQL = "delete from customer where name='Updated Testing VB'"
Set oConnection = CreateObject("ADODB.Connection")
Set oRecordset = CreateObject("ADODB.Recordset")
oConnection.Open sConnectString
oConnection.Execute (sSQL)
sMsg = sMsg & "Record Deleted!!!"
MsgBox sMsg

Set oRecordset = Nothing
oConnection.Close
Set oConnection = Nothing
End Sub


Also, Refer:
How to Use QODBC with Microsoft Access 2007
Using QuickBooks Data with Access 2010 (Import Tables) 32-bit
Using QuickBooks Data with Access 2010(Linked Tables) 32-bit
How to Configure QODBC to Work With 64-bit MS Access
Microsoft Access 2003 and QODBC
---